Janssen reaches 30-save mark in impressive season
Janssen reaches 30-save mark in impressive season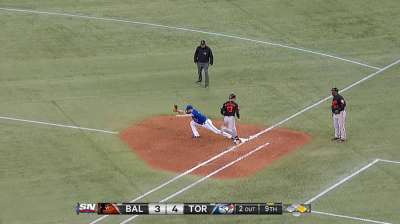 TORONTO -- The back end of the Blue Jays' bullpen was in a state of constant flux until right-hander Casey Janssen took over as closer midway through the 2012 season.
The likes of Jeremy Accardo, Kevin Gregg, Frank Francisco, Jon Rauch and Francisco Cordero attempted to solidify the ninth inning over the years, but ultimately failed.
The closer role was an obvious weakness, but Janssen has been relatively flawless since getting his shot last May. The veteran right-hander had been passed over before, but he has quickly made up for lost time and after pitching a scoreless ninth inning on Saturday afternoon, he also reached the 30-save plateau for the first time in his career.
"It's a nice little milestone," Janssen said. "I still want to close out as many games as I can to finish the year. I said it when I took the job, I just kind of wanted to take the opportunity to have my name be recognized around baseball as a guy who is a viable late-inning arm.
"I don't know if I ever would have imagined being a closer saving 30 games, but I wished, I thought and I hoped I could and it was just a matter of getting the opportunity."
Janssen likely was overlooked in the past because he's not the prototypical hard-throwing reliever. The native of California relies more on command and his offspeed pitches to get through the lineup of opposing teams, but you'd be hard pressed to find someone with better numbers over the past year-and-a-half.
The 31-year-old is 52-for-57 in save opportunities over the past two seasons. This year, he has posted a respectable 2.76 ERA while striking out 44 batters and walking just 13 over 49 innings prior to Sunday's game.
What makes Janssen's current season even more impressive is that he wasn't even expected to head north with the team after Spring Training. Janssen was attempting to come back from offseason shoulder surgery, and his workload was limited during the spring.
Even when the season began with Janssen on the roster, it was a grind. Janssen didn't start feeling like himself until midway through the year, but it certainly wasn't noticeable based on the numbers.
"It was hard to justify the injury early on," said Janssen, who didn't blow a save until June 8. "I was telling guys that I feel [bad] and I might have a 1-2-3 inning and they're like, 'What are you talking about?' It was hard to get through those first three months or so.
"I started to get into a nice routine, obviously I was further away from the surgery date and I hopefully I'm able to power through this last stretch and get through the year."
Gregor Chisholm is a reporter for MLB.com. Read his blog, North of the Border, and follow him on Twitter @gregorMLB. This story was not subject to the approval of Major League Baseball or its clubs.