Mercer building confidence while boosting Bucs at dish
Mercer building confidence while boosting Bucs at dish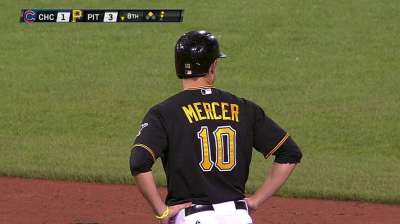 PITTSBURGH -- Infielder Jordy Mercer has given the Pirates a spark offensively. He established a career high with four hits Tuesday in Texas and is hitting .304 (41-for-135) since the All-Star break, .429 (30-for-70) against left-handed pitchers this season, and .363 (41-for-113) in 27 games while batting second in the lineup. He was back in the No. 2 spot in the batting order for Sunday's finale against the Cubs.
"I don't know if there is a little bit of difference between the No. 2 spot and the eighth spot," Mercer said. "When you've got guys behind you, all you want to do is get on base, so you're trying to work counts and trying somehow to get on base, because you know those guys behind you are going to hit. And in the eight spot, I've got the pitcher behind me, so you've got to expand your zone a little bit, and you've got to work for some extra swings or some extra hits because the pitcher is behind you. It's a little bit different, but I guess average-wise it has just kind of fallen in place."
Pirates manager Clint Hurdle is pleased with the progress that Mercer has made
"Jordy has incrementally gotten better it seems each month," Hurdle said. "He's playing with confidence, and I think one thing that has worked well for him is his ability to strike the left-handed pitchers. He's done an exceptional job in the two spot, showed the ability to bunt and hit and run, and he's struck some balls well and rode a couple of balls out of the park. All in all it's a very good confidence-building year for him."
Mercer has tried to stay on an even keel.
"That's one of the mindsets I had going into this year, was just stay consistent and don't try to do too much," Mercer said. "I feel like if I do both of those things I can be successful, no matter what the circumstances are or what the situation is. If I stay with my approach and stay with the things I've been doing, I've been successful."
Mercer has flashed some leather at times this season.
"I feel like my defense has been my pride for a long time," Mercer said. "Working with the guy next to me, Clint Barmes, and taking ground balls with him every day and just picking his brain and just sitting back and watching him, you can learn a lot. I try to keep my ears open and try to ask a bunch of questions and learn some things and try to put them in my game, and so far it's been working out."
George Von Benko is a contributor to MLB.com. This story was not subject to the approval of Major League Baseball or its clubs.