Rowson seeing growth at plate in Rizzo, Castro
Rowson seeing growth at plate in Rizzo, Castro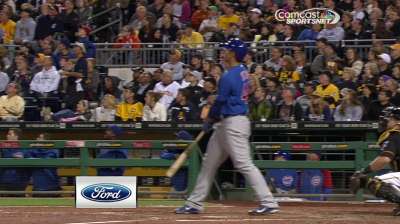 PITTSBURGH -- Neither Starlin Castro nor Anthony Rizzo has the batting average he'd like, but Cubs hitting coach James Rowson has seen progress from both young players this year.
"A guy like Rizzo, this is his first full season, and he's shown he can put up power numbers," Rowson said Sunday of the first baseman who has 22 home runs, "but he's also going through a league where he's seeing these guys on a consistent basis for the first time.
"You look at some of the more experienced players in this league, players who have dominated, and they've had 30, 35, 40 at-bats against the same guys," Rowson said. "As you start learning how you're being pitched and seeing the same guys, we expect more progress there. For his first full season in the big leagues, I think he's done a nice job overall."
Castro has had plenty of peaks and valleys this season, hitting .167 in June, .292 in July, then .218 in August.
"As far as Starlin goes, we've gone through a few phases with him," Rowson said. "It's tough, and it was tough early on. He's shown some good signs of late. I think he learned a lot about himself. He had to go through some tough situations for him, but we've accomplished some things."
Rowson said Castro is seeing more pitches per plate appearance, and that's helped him be more selective.
"He's laid off some tough pitches that he would swing at, but at the same time he's now starting to combine the two," Rowson said of the shortstop. "He's starting to use his hand-eye coordination and is able to lay off some tough pitches and get to the next fastball. At the end of the day, that's what we want -- we want him to hit, we don't want him to walk.
"But we want him to lay off one or two tough pitches and get a better pitch to drive. I see progress. It's not consistent every day, but there is progress."
It's hard to remember Castro is just 23. Rowson said he's told the shortstop to be himself. Castro has hit safely in his last five games, and from Aug. 23-Sept. 6, he batted .304.
"I always tell him, 'You're a man, not a machine,'" Rowson said of his message. "'Be yourself, go out there and play the game like you play, and we'll discuss it the next day. Don't let it beat yourself up that game or wear on you. You're going to make mistakes, but be comfortable in your own skin, and we'll talk about it tomorrow.'"
Carrie Muskat is a reporter for MLB.com. She writes a blog, Muskat Ramblings, and you can follow her on Twitter @CarrieMuskat. This story was not subject to the approval of Major League Baseball or its clubs.