Offense can't match Koehler's dominance of Mets
Offense can't match Koehler's dominance of Mets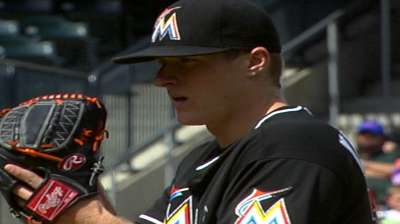 NEW YORK -- The Marlins have been shut out 17 times, but Sunday's may have been the most frustrating due to multiple squandered chances.
Before heading to extra innings, 10 Marlins were left on base, and they were 0-for-12 with runners in scoring position. Ultimately, missed opportunities caught up to them.
Travis d'Arnaud slapped a two-out walk-off single to center in the 12th inning that lifted the Mets to a 1-0 victory over the Marlins at Citi Field.
"Those are always frustrating to lose, 1-0 in the 12th inning," Marlins rookie left fielder Christian Yelich said. "We had far more chances today than they did. I think really the only time they seriously threatened us was that last inning, and we still almost got out of it. It's tough. You've just got to bounce back and stay after it. It's baseball."
The 3-hour, 37-minute affair ended in painful style for Marlins reliever Ryan Webb, who inherited the bases loaded with no outs. After getting two ground-ball outs, the game ended when d'Arnaud's single was out of the reach of diving shortstop Adeiny Hechavarria.
"I got another ground ball, and it found a hole," Webb said.
Juan Lagares walked to open the 12th off lefty Zach Phillips, and Daniel Murphy's single to center put runners on the corners. Lucas Duda walked, loading the bases with no outs. Manager Mike Redmond made a double-switch, bringing in Placido Polanco to play third base, and Webb to pitch.
Webb got a ground ball when pinch-hitter Zach Lutz tapped to third and Polanco went home for the forceout. Lutz was safe at first on the attempted double play. Webb again induced a ground ball out of Andrew Brown, and first baseman Ed Lucas recorded the force at the plate.
"As a sinkerball pitcher like myself, it's almost a simple situation if I make my pitch," Webb said. "If we get a ground ball, we can throw it home and get the out. If you keep the ball on the ground, and do your job, you can get a good result out of one pitch. I tried to do that three times. We couldn't turn a double play on a couple of slow ground balls."
Unfortunately for Webb, his third straight ground ball resulted in d'Arnaud's first career walk-off hit.
"It's big. Extra-inning game, bases loaded," d'Arnaud said. "To get that hit, it's an indescribable feeling."
The two National League East rivals met 19 times this year, with Miami winning 11. Five games in the season series went into extra innings, including a 2-1 Marlins win in 20 innings on June 8 at Citi Field.
Tom Koehler was impressive, matching his career high with eight innings pitched. The right-hander scattered three hits, struck out five and didn't allow a run.
A New York native who attended Stony Brook University, Koehler admitted it was gratifying to pitch in front of family and friends.
The right-hander also felt he had his finest performance of the season. It is up there with a win he posted at San Francisco on June 20, when he gave up one run on three hits in seven innings.
"They're close," Koehler said. "But as far as consistent quality, today was definitely up there. There have been some times where I felt like I had thrown the ball maybe like that for a couple of innings. Today was the first time I was able to push there and keep on going."
Still, Koehler settled for a no-decision, because Dillon Gee threw 7 1/3 shutout innings, fanning eight.
Miami was primed to take the lead in the ninth inning, mainly because of two errors by Murphy at second base. Logan Morrison led off against LaTroy Hawkins with an infield single to second, but Murphy's wild throw into the New York dugout advanced Morrison to second.
Hechavarria pinch-ran for Morrison, and Lucas, who fouled off two bunt attempts, hit a ground ball to second. Murphy gambled and threw to third, where he was able to get Hechavarria on a close play.
Koyie Hill tapped to third, and the Mets attempted to turn two, but Murphy dropped Wilmer Flores' throw for his second error. Still, Miami was unable to capitalize. Pinch-hitter Greg Dobbs lifted a pop foul to third and Chris Coghlan bounced to Murphy, who completed the play to keep Miami scoreless.
In the fourth inning, the Marlins received a scare when Giancarlo Stanton was plunked on the left hand by a 90-mph Gee fastball. Assistant trainer Mike Kozak checked on the slugger, who remained in the game and took first base. Justin Ruggiano singled with one out, but neither could advance.
Stanton had his hand packed in ice afterward, but he is fine.
"We had lots of opportunities, again," Redmond said. "They gave us a couple of opportunities in the ninth with the two errors. We just weren't able to capitalize. We just have struggled to get that big hit, especially with two outs. That big hit that you needed that they got today, we weren't able to get."
Joe Frisaro is a reporter for MLB.com. He writes a blog, called The Fish Pond. Follow him on Twitter @JoeFrisaro. This story was not subject to the approval of Major League Baseball or its clubs.