Gonzalez injured, but O's come through with big win
Gonzalez injured, but O's come through with big win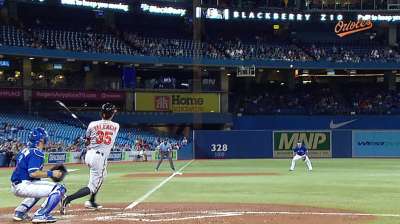 TORONTO -- The Orioles watched their starter walk off the mound before the sixth inning ended and got just one hit with runners in scoring position.
Sound familiar? Perhaps. But this time, they found a way to win.
Buoyed by 3 2/3 scoreless innings from a scuffling bullpen, the Orioles rode a two-run double from red-hot Danny Valencia to a 3-1 win over Toronto on Sunday afternoon that helps keep their postseason dreams alive on a pivotal 10-game road trip.
"It's big," O's reliever Tommy Hunter, who turned in 1 1/3 scoreless innings, said of taking two of three in Toronto. "It takes us into that Boston series with a series victory. We have quite a task ahead of us. We're looking forward to it."
Baltimore, which moved to 2 1/2 games behind Tampa Bay for an American League Wild Card spot, was able to overcome an injury-shortened outing by Miguel Gonzalez in a contest that also saw outfielder Nate McLouth exit in the ninth after taking a pitch off his right knee.
The Orioles appear to have dodged two scares, with both injuries appearing more optimistic than at first blush. With 13 games remaining, they still believe they are very much in playoff contention.
"It's a self-starter place," manager Buck Showalter said of Rogers Centre, which attracted a crowd of 22,331 for the rubber match. "You better start your engine. You can't get into ratios of two out of three. You've just got to win baseball games, and today we scored more than they did in 27 outs. So we get on the plane and try to get through customs, and watch it rain in Boston tomorrow."
The battled-tested O's, who have struggled with timely hitting over the past three weeks in particular, got a huge clutch hit from Valencia, who laced a two-out double into right field to score Nick Markakis and Adam Jones. The two-bagger gave the Orioles a lead they would never relinquish, with Baltimore loading the bases with one out on starter Mark Buehrle in the next frame and pushing across another run on Chris Davis' walk.
"There's a lot of fight in here," Valencia said of an Orioles club that missed several opportunities to score in Saturday's loss. "We know what we are capable of doing and what we are playing for. So we come out here, try to play hard and put yesterday behind us."
The Orioles chased Buehrle after working him for 99 pitches in five innings, and Gonzalez -- despite pitching well -- lasted just one out longer. The right-hander grimaced after striking out Adam Lind to start the sixth and exited the game with a right groin strain that he first felt several pitches before.
"I thought I was feeling pretty good, but it tightened up a little bit, so I thought, 'You know what? Better to get out and get ready for the next one,'" said Gonzalez, who was optimistic despite Showalter saying he was 'in jeopardy' of missing a start.
"I talked to [head athletic trainer Richie Bancells] when I came out about it and he took care of it. He told me it's not that bad. What I see is not bad."
Gonzalez, who has pitched to a 3.92 ERA in 26 starts, held Toronto to one run -- a solo homer from Lind in the second -- on six hits and no walks, working around a pair of one-out singles in the fourth and stranded another pair of runners the following frame.
"You could tell that runs ... it was going to be whether somebody could get a big hit, which we got with Danny," Showalter said. "I think Chris had a great walk and I think [Matt] Wieters called one of the best games since I've been here, because Miggy basically had a fastball today. His breaking ball was a little rolly. It was the only thing he got hurt on. Matty figured out a way."
Gonzalez struck out two in the abbreviated 86-pitch outing before being replaced by rookie righty Kevin Gausman, whose appearance started a fine afternoon by the Orioles' relief corps, picking up strikeouts of Ryan Goins and J.P. Arencibia to strand runners at first and second.
Hunter, who entered a bases-loaded jam in the seventh, gave the O's a lift with an inning-ending strikeout of Moises Sierra to keep the two-run lead intact. After Francisco Rodriguez allowed a two-out single and Edwin Encarnacion's ground-rule double, he issued an intentional walk to Lind to bring on Hunter. Hunter followed that up with a 1-2-3 eighth and closer Jim Johnson recorded his league-leading 45th save.
"That's part of the game," Hunter, who has stranded 24 of 28 inherited runners this season, said of picking up for Gonzalez. "Unfortunately, he did come out and you never want to see that. We have to win some games. It's coming down to that point. He gave us what he could and we took it from there."
Brittany Ghiroli is a reporter for MLB.com. Read her blog, Britt's Bird Watch, and follow her on Twitter @britt_ghiroli. This story was not subject to the approval of Major League Baseball or its clubs.