Cubs fall to Pirates after getting late wakeup call
Cubs fall to Pirates after getting late wakeup call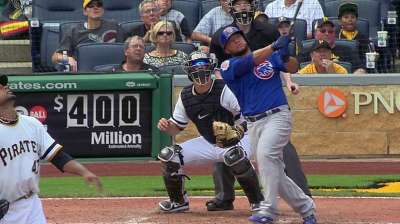 PITTSBURGH -- Travis Wood applied all the lessons he's gotten this season, and notched his 23rd quality start, but he couldn't stop the Pirates.
Francisco Liriano held the Cubs without a hit through six innings, and Justin Morneau delivered a game-winning pinch-hit RBI single in the eighth to lift the Pirates to a 3-2 victory Sunday in front of 36,559 at PNC Park.
"They've won all year long on pitching," Cubs manager Dale Sveum said of the Pirates. "If you keep holding guys to one, two, three runs per game, you'll have a chance to win ballgames and get deep in the playoffs."
Pittsburgh remained tied for first with St. Louis in the National League Central heading into the final two weeks of regular-season play. All four games between the Cubs and Pirates were decided by two runs or fewer, and the last three games were one-run decisions. Chicago now is 20-31 in one-run games.
Welington Castillo made it close Sunday, when he smacked a two-run home run in the seventh off Liriano to tie the game at 2.
With one out in the Pirates' eighth, Pedro Strop plunked Andrew McCutchen with a pitch, and he moved up on Marlon Byrd's bloop single to center. McCutchen then tallied on Morneau's single to left.
Both Morneau and Byrd, who hit the game-winning home run Saturday, are late-season additions to the Pirates and have provided some much-needed offense.
"They've impacted the club, they've impacted the lineup and everything we're doing," Pirates manager Clint Hurdle said. "We had a good team coming in to that point when the deals were made, and we just made a good team stronger."
The Cubs know how good Liriano is. He had beaten them three times in three starts this year, and on Sunday, the lefty was untouchable for six innings.
"You knew it was going to be tough," Sveum said. "That's how you score -- get somebody on and pop a home run."
Which is what the Cubs eventually did. Pittsburgh opened a 1-0 lead in the first, when Jose Tabata tripled to lead off and scored one pitch later on a wild pitch. Tony Sanchez made it 2-0 with a leadoff home run in the fourth off Wood.
Liriano had thrown 99 pitches through six innings, and Junior Lake connected on No. 100, recording an infield single to lead off the seventh for the first hit off the lefty. Castillo then launched pitch No. 102 into the left-field seats for his seventh home run to tie the game. Darnell McDonald singled, and Liriano was lifted. It's the first time in 24 starts that he did not get a decision.
"He's not easy to hit," Castillo said of Liriano. "He's got good offspeed [stuff], and he throws it for strikes. He's a guy you have to be aggressive against all the time because he can throw 96 and 88 [mph] and has a slider at 85, 87. What makes him good is [all the pitches] look the same. His changeup looks like his fastball, his slider looks like his fastball. He's been good his whole career. The approach we had to take was, be aggressive and try to get him early."
Wood took an aggressive approach, too, against the Pirates, who rank among the NL leaders in batting average against left-handed pitchers.
"They came out hacking," Wood said. "They had a game plan, and fortunately I was able to get out of [the first] giving up just one."
Sticking to the Cubs coaches' plan has been key for Wood this season, his first in which he's been on a big league roster from Opening Day until the finish.
"For me, it goes back to last year when they wanted me to work both sides of the plate, arm side and glove side, and I really focused on arm side because I was predominantly glove side," Wood said. "For me to take that into this year and make sure I can command both sides of the plate and prepare as best as I can, side sessions and everything, it's been outstanding."
It wasn't hard for the Cubs' staff to convince Wood to make the changes because he threw primarily to one side of the plate.
"I knew at some point it was going to catch up to me," Wood said.
"That lineup is not easy to get through," Castillo said of the Pirates. "They were jumping on him early. We had to make adjustments, and he did it."
The Cubs head to Milwaukee with a 15-31 record since July 29. While the Pirates are prepping for the postseason, playing "We Are Family" at PNC Park, it's wait until next year for Chicago.
"We've definitely made strides," Wood said, complimenting Theo Epstein, president of baseball operations, and general manager Jed Hoyer for getting players who want to be on the team. "I'm excited to finish out the season and see how we battle back next year being together for a full year."
Carrie Muskat is a reporter for MLB.com. She writes a blog, Muskat Ramblings, and you can follow her on Twitter @CarrieMuskat. This story was not subject to the approval of Major League Baseball or its clubs.