d'Arnaud delivers on Sunday, walk-off style
d'Arnaud delivers on Sunday, walk-off style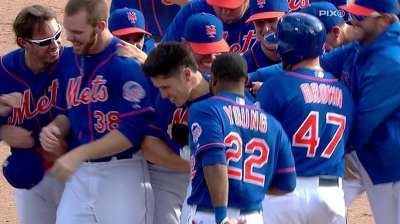 NEW YORK -- Mets manager Terry Collins could tell Travis d'Arnaud wasn't satisfied, could see that his young catcher wanted to learn. Collins knew d'Arnaud was absorbing the lessons from his hitting coach, and seeing d'Arnaud study David Wright's batting practice session on Saturday reaffirmed his belief.
Behind the plate, d'Arnaud was already meeting the lofty expectations attached to his name. Offensively, though, his struggles were apparent.
In the bottom of the 12th inning, d'Arnaud delivered a walk-off single into center field off Marlins reliever Ryan Webb that gave the Mets a 1-0 victory on Sunday. As he ran to first base, d'Arnaud pumped his right arm into the air and pointed to the sky. His teammates streamed onto the field and mobbed him.
"It's his first time in the big leagues, and of course he came with a huge reputation of being an outstanding hitter. He's really struggled," Collins said. "We're so impressed with him, defensively. Now, we've got to get him going offensively, and today I think is a big start for him."
The 24-year-old came up in a critical situation. The bases were loaded with two outs. The Mets had already missed two chances to drive in the winning run with two ground-ball forceouts.
"I got another ground ball, and it found a hole like that," Webb said.
Once d'Arnaud's hit snuck through, the celebration ensued.
"It's big. Extra-inning game, bases loaded," d'Arnaud said. "To get that hit, it's an indescribable feeling."
Ever since the Mets dealt John Buck as part of trade with the Pirates on Aug. 27, d'Arnaud's role has been defined. He's their starting catcher, one the Mets hope will be a part of their future for a long time.
While d'Arnaud lived up to his reputation, defensively, his bat lagged behind. He's hitting only .169, but the Mets believe he can raise that mark.
"He's trying to fix some things," Collins said. "He's a student. He's a real, real bright kid and he's going to get it."
d'Arnaud's year had already been trying by the time he joined the Mets. On April 17, he took a foul ball off his left foot while catching for Triple-A Las Vegas that broke his first metatarsal bone. He missed about three months of the season. After returning in July, he hit .304 through 19 Triple-A games. In 67 games with Las Vegas last season as a member of the Blue Jays' organization, he hit .333.
That's why d'Arnaud struggles at the plate with the Mets had been so confounding. But on Sunday, after delivering his first walk-off hit at any level, d'Arnaud credited his teammates with keeping his spirits high.
"The [thing I've been most uplifted by] has been my teammates," d'Arnaud said. "They've been there for me day in and day out. They've had my back, and today was awesome."
d'Arnaud's hit also came at a perfect time. His mother arrived in New York on Friday, and Sunday was her last day here. d'Arnaud said he planned on giving her the game ball.
Until d'Arnaud's hit, both the Mets and Marlins slogged through their fifth extra-inning game this season. Dillon Gee gave the Mets another stellar start, allowing six hits over 7 1/3 scoreless innings. He walked two batters and struck out eight.
"I think the key today was being able to throw offspeed pitches for strikes. I threw a lot of curveballs and changeups, first pitch, especially," Gee said. "I tried to get ahead in the count with something other than the fastball."
As well as Gee pitched, though, Marlins starter Tom Koehler matched him. The right-hander allowed only three hits over eight innings.
The game became a battle of bullpens, and the Mets' relievers continued to shut down Miami. That included Gonzalez Germen striking out five batters over two innings, and Vic Black pitching a hitless inning to record his first Major League win.
The Mets hope this hit sparks d'Arnaud at the plate over the final two weeks of the season. Collins knows d'Arnaud is learning as much as he can, and working on breaking out of his slump.
On Sunday, that work paid major dividends.
"I was just waiting for a pitch I could handle, put a good swing on it," d'Arnaud said. "Fortunately, it went through."
Chris Iseman is an associate reporter for MLB.com. This story was not subject to the approval of Major League Baseball or its clubs.