Giants pound LA behind 13 RBIs from Pence, Belt
Giants pound LA behind 13 RBIs from Pence, Belt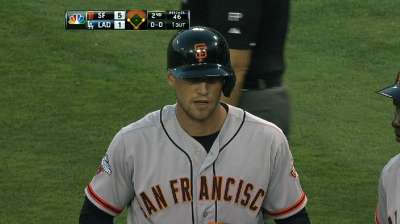 LOS ANGELES -- At this rate, the Giants had better sign Hunter Pence by the season's final day, before he can even think about changing out of his San Francisco uniform.
Pence hit the Giants' first grand slam of the season and drove in a career-high seven runs Saturday night to pace a historic 19-3 rout of the Los Angeles Dodgers. By winning two of the series' first three games, San Francisco has delayed the Dodgers' inevitable National League West title clinching until Monday at the earliest.
"It's something that I think we were aware of," said Giants first baseman Brandon Belt, who also established personal bests with five hits and six RBIs. "Nobody likes to see somebody else clinch right in front of them."
What the Giants don't know is whether they'll see more games like this one next year, with a productive Pence leading the way. He's eligible to become a free agent after the season ends. The Giants have begun talks with Pence's representatives, but a deal is far from imminent.
Pence's performance gave the Giants the opportunity to increase the volume of their chants to retain him.
"We know how good Hunter is. Hopefully when the season's over, something does get done," manager Bruce Bochy said. "But we'll address that when it's time."
Said right-hander Tim Lincecum, who won his fourth consecutive decision, "It's hard not to feed off his energy. He comes in here with a real good positive mindset every day. It's easy for us to kind of feed off that. We haven't had guys like that in the clubhouse before."
Pence reveled in the appreciation.
"I know on my side I love it here," he said. "I love playing for Bochy and I love playing for the city. It's a wonderful place to play."
Asked whether he's focused on maximizing his performance to improve his negotiating leverage, Pence said, "My focus is, this is one game."
Whatever he's thinking is succeeding. Pence has 16 RBIs in his last five games and is batting .407 (22-for-54) with four doubles, seven home runs and 22 RBIs this month.
The torrent of offensive trivia unleashed by the Giants' hitters was equally impressive.
The most remarkable record the Giants set was the most basic. They scored more runs than any other team has amassed in a game at Dodger Stadium, which opened in 1962. Including the Dodgers.
"Anytime something significant like that happens, it's something to be grateful for and something to be humbled by," Pence said.
The Giants' run total was their highest since they won 23-8 at Atlanta on June 8, 1990. That also marked the last time two Giants drove in at least six runs apiece in the same game. Will Clark and Rick Parker did the honors that night.
"I'm a little embarrassed I couldn't be the top RBI guy tonight," Belt jokingly said.
The Giants' 22-hit total was their highest since they reached the same figure on May 13, 2007, at Colorado. Rookies Johnny Monell and Ehire Adrianza each recorded their first Major League hits. And Lincecum twice singled and scored to lift his batting average from .077 to .107.
"They waited for the balls in the middle of the plate and they hit them," Dodgers catcher Tim Federowicz said. "It was one of those days that they didn't miss their pitches. Games like this happen."
They seldom happen under Saturday's circumstances. San Francisco chased Dodgers starter Ricky Nolasco, who typically toys with them, after the right-hander lasted just 1 1/3 innings. Nolasco, who entered the game with a 5-3 record and a 2.09 ERA in nine career starts against the Giants, yielded seven hits and seven runs (five earned) in his truncated outing.
Pence, who went 3-for-5, singled to chase home one of the Giants' three first-inning runs off Nolasco, who had won his last seven decisions. Pence added a bases-loaded, two-run single off Nolasco (13-10) one inning later. After Pence grounded into a seventh-inning double play, Bochy gave him a rare rest; he has missed only 16 innings in right field this season.
The Giants led, 8-1, when Pence made the score much more lopsided in the fifth inning. Though fly balls appeared to travel farther than usual on this warm evening (game-time temperature: 80 degrees), home runs to center field don't come cheaply at pitcher-friendly Dodger Stadium. Regardless, Pence connected solidly with reliever Stephen Fife's 2-0 fastball and lined it over the center-field wall. The Giants became the last team this season to hit a grand slam, and Pence became the first Giant to collect seven RBIs at Dodger Stadium since Barry Bonds on Oct. 1, 1993.
Belt opened the scoring with a first-inning RBI single and added another run-scoring single in the third before he truly went to work. The first baseman, who played the entire game, lofted a two-run, seventh-inning homer off Onelki Garcia and a two-run double in the eighth off Peter Moylan.
Lincecum (10-3) cruised through six innings and turned his worst moment of the game into his best. After hitting Yasiel Puig in the shoulder with a pitch that traveled dangerously close to the rookie star's head, Lincecum tapped his chest to convey the sentiment, "My fault."
"I was gesturing to make sure he knew I wasn't intentionally doing it," Lincecum said.
Chris Haft is a reporter for MLB.com. This story was not subject to the approval of Major League Baseball or its clubs.