Dodgers on wrong side of history vs. Giants
Dodgers on wrong side of history vs. Giants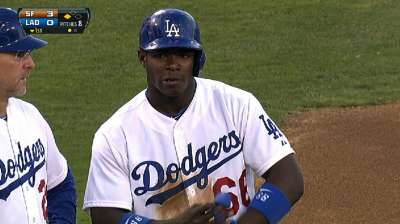 LOS ANGELES -- The Dodgers set all kinds of records while winning roughly 80 percent of their games from late June through August, but they saw a different side of history Saturday.
With a 19-3 loss to the Giants, the Dodgers watched San Francisco score the most runs by one team at Dodger Stadium. It was the most runs Los Angeles had allowed in 12 years, dating back to a 20-1 loss against the Cubs on May 5, 2001, at Wrigley Field.
The Dodgers had not lost a game by at least 16 runs at home since Jackie Robinson was a rookie. Oddly enough, the Giants were also the culprits in a 19-2 defeat July 3, 1947, at Ebbets Field in Brooklyn.
Despite all the stats and historical context, the Dodgers were content to chalk this one up to an aberration.
"We have to turn the page," said catcher Tim Federowicz. "I guarantee it won't happen again tomorrow. It's just one of those days. The ball found the grass for them a lot more than it did for us."
Being on the cusp of a earning a spot in October certainly helps forget about a lopsided loss.
The Dodgers' magic number to win the National League West remains four, and they could clinch the division title as early as Monday in Arizona. But Los Angeles is not playing its best baseball as it approaches its first postseason appearance in four years. The club is 3-7 in its last 10 games and 6-7 in September.
The Dodgers entered this series against the Giants in position to clinch the division by Sunday, but consecutive losses to their division rival have changed those plans.
"Nobody likes to see somebody else clinch right in front of them," said Giants first baseman Brandon Belt, who set career highs Saturday with five hits and six RBIs.
The Dodgers were never really in the game after Ricky Nolasco allowed seven runs and recorded just four outs in his shortest start in over two years.
"It started bad and ended bad," said Dodgers manager Don Mattingly.
Nolasco entered Saturday unbeaten in his last 10 starts and was 8-1 with a 2.07 ERA in 12 outings with the Dodgers. The right-hander had allowed seven runs in his past six starts combined. Two of the seven runs charged to Nolasco on Saturday were unearned.
"I wasn't able to make quality pitches," said Nolasco, who walked three and gave up seven hits. "I fell behind and my command wasn't there. There were a lot of good counts for them to hit in."
Mattingly said he wasn't concerned with Nolasco's rocky performance.
"If this was happening regularly, I would have concerns," Mattingly said. "He's been around long enough to suck one of these up and know that the next time out is a totally different thing."
Adrian Gonzalez did his part for the Dodgers, driving in two runs. The first baseman leads the club with 92 RBIs this season.
Faced with a seven-run deficit after three innings, Mattingly started to empty his bench.
Nick Buss made his Major League debut, pinch-hitting for Carl Crawford in the third and remaining in the game in left field. Buss, promoted from Triple-A before the game, went 1-for-3.
Mattingly said he took Crawford out because his back stiffened up on him, as has been the case for much of the season.
Yasiel Puig came out of the game after five innings with the Dodgers behind, 12-3. Puig scored twice and made a diving catch in center field. The rookie had some discomfort below the belt after laying out for the catch, but Mattingly said it was not anything serious.
"I think he's fine," the manager said. "We saw him go from first to third right after that at full speed. We think he's OK. He's got lots of bumps and bruises from the way he plays. But I didn't take him out because of that; I was taking him out anyway."
Alex Castellanos belted a pinch-hit home run on the first pitch he saw in the fifth. Like Buss, Castellanos was added to the roster before the game as protection in the outfield while Andre Ethier sits with a left ankle issue.
Drew Butera made his Dodgers debut in the seventh, replacing Federowicz. Butera, acquired from the Twins at the July 31 non-waiver Trade Deadline, caught the final three innings.
Dee Gordon entered the game at second base in the eighth, his first appearance at the position in the Majors.
From the beginning, things did not go well for Nolasco. Angel Pagan greeted him with a double to lead off the game, and the Giants pushed across three runs on four hits, two walks and an error in the first inning.
It didn't get any better in the second. Another error didn't help Nolasco, but he issued a walk and gave up three more hits as San Francisco scored four runs. Pablo Sandoval's two-run double chased Nolasco.
Nolasco's shortest outing since recording four outs with the Marlins on July 20, 2011, resulted in a lot of work for the Dodgers' bullpen. Stephen Fife went three innings, Peter Moylan picked up two frames, rookie Onelki Garcia retired three batters, J.P. Howell recorded two outs and Brandon League pitched the ninth.
"You don't want to bury the 'pen like that," Nolasco said. "I put us in a big hole and let the team down. You don't feel good."
Austin Laymance is an associate reporter for MLB.com. This story was not subject to the approval of Major League Baseball or its clubs.