Guthrie, Royals fall on late Tigers homer
Guthrie, Royals fall on late Tigers homer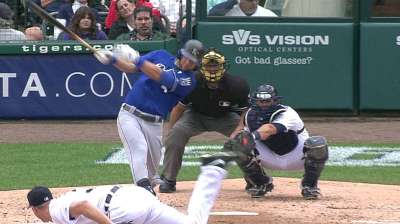 DETROIT -- Max Scherzer couldn't quite snag his 20th victory, but the Detroit Tigers won anyway.
Catcher Alex Avila's second home run off Kansas City starter Jeremy Guthrie on a gray Sunday afternoon snapped a tie in the eighth inning and gave the Tigers a 3-2 victory, cooling the Royals' passionate push for an American League Wild Card playoff spot.
The Royals remain 3 1/2 games back in the AL Wild Card race, as Tampa Bay and Texas also lost on Sunday.
"This one hurts," said Eric Hosmer. "Especially coming back and tying it, they just answered. Avila had a great day over there, and that's what good teams do -- with somebody different stepping up every day, and he had two big swings for them today."
The Tigers took the series, two games to one, ending the Royals' string of three straight series wins against Seattle, Detroit and Cleveland. The Royals finished their trip with a 3-3 record.
Scherzer, a right-hander who threw his college ball down I-70 from Kansas City at Mizzou, was thwarted in his fourth try for his 20th victory. He remained at 19-3, despite racking up 12 strikeouts and holding a 2-1 lead after seven innings.
"He's really good, he's tough in clutch situations, because he's got that slider, that changeup, the good fastball that he changes speeds on," Royals manager Ned Yost said. "He's got 19 wins for a reason."
The Royals tied the score at 2 in the eighth against left-handed reliever Drew Smyly. Alcides Escobar led off with a looping double to left field and stole third as Emilio Bonifacio fanned for the second out.
With Hosmer at the plate, Smyly bounced a pitch that glanced off catcher Avila and rolled between Hosmer's legs. Hosmer tried to get out of the way, but Avila charged into him and couldn't retrieve the ball in time, as Escobar zipped across the plate on the wild pitch. Tigers manager Jim Leyland checked with home-plate umpire James Hoye, but Hosmer was absolved of any interference.
"I was just trying to get maybe an interference call, maybe I could talk him into it, but he didn't really go for it," Leyland said. "It was just one of those unfortunate things."
Avila rammed into Hosmer with his shoulder, but had trouble getting past him.
"Before I could do anything, he just came right in there," Hosmer said. "It was a perfect spot for him to run, and he just ran right into me. Obviously, it wasn't intentional or anything like that. I'm not even sure what you're supposed to do in that situation."
With the score tied, Yost decided to send Guthrie out for the eighth inning, even though he'd given up 12 hits in his first seven innings.
"I thought he could get us through the inning. I thought he had settled down," Yost said. "At that point, he had pitched himself out of some big jams, and I felt that he'd really [gotten] settled in. I thought he could get us through the bottom of the order, but I pushed him too far."
Avila had inflicted the only telling damage on Guthrie, with a two-run homer in a second inning that began with Andy Dirks' single to shortstop.
"If that ball doesn't come up on Escobar, that's a solo homer," Yost said.
After Dirks was out on a force play, Avila hit a drive that sailed over left fielder Alex Gordon as he strained to get his glove to the ball. He was a foot or more short.
"It was too much of a line drive, so I didn't have time to get back," Gordon said. "I was trying to find the fence. If I'd have been playing back and had more time, maybe I'd have had time to climb the wall."
Not this time. It was 2-0.
"It was kind of a slow two-seamer," Guthrie said. "I just left it up. I needed to keep it down, and he did an exceptional job to drive it as far as he did. Not the pitch I was trying to execute."
They squared off again with the score tied and one out in the eighth. This time, Avila hammered his 11th homer into the right-field seats.
"A slider that didn't have any depth, didn't get to where it was trying to get," Guthrie said. "He puts a good swing on pitches in the zone like that."
Yost was asked if, by leaving Guthrie in rather than going to his strong bullpen, he was managing with his heart.
"No, I felt that he was going to get us through the inning," Yost said. "This is no time to be managing with your heart, you try to use your head. I just felt he could get us through it."
The only run off Scherzer came on Gordon's leadoff home run in the fourth inning.
"You saw it all day -- 12 strikeouts," Gordon said. "With him, if he gives you a pitch to hit, you better go get it, because he really has good location this year -- and with his pitches, it makes it tough. That's what I got 2-0 -- just got a [fastball] to hit and didn't miss it, so I was fortunate."
When Scherzer recorded his 12th strikeout, fanning Billy Butler to start the sixth, it marked the most strikeouts against the Royals by one pitcher in six years. Javier Vazquez of the White Sox struck out 13 Royals on Sept. 17, 2007.
Ironically, the victory went to Smyly, 6-0, whose wild pitch let in the tying run. Closer Joaquin Benoit posted his 20th save with a perfect ninth.
The Royals won the season series against the AL Central front-runners, 10-9, but they're eight games behind the Tigers and their Wild Card hopes took a tumble.
"Every loss is tough, right now," Gordon said. "We had plenty of chances to win it, and Guthrie pitched a heck of a game. He gave up long balls, and that was pretty much it. But he pitched well enough to win the game. That's what our offense needs to do."
Dick Kaegel is a reporter for MLB.com. This story was not subject to the approval of Major League Baseball or its clubs.