Avila's two blasts help Tigers edge Royals
Avila's two blasts help Tigers edge Royals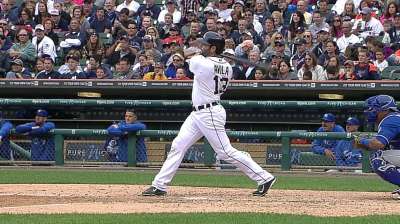 DETROIT -- Max Scherzer sparkled and dazzled all afternoon, but it was Alex Avila who provided the magic, with two home runs, in the Tigers 3-2 win on Sunday afternoon at Comerica Park. The win lowered the Tigers' magic number to clinch the American League Central to nine.
Avila drilled a solo shot to right in the eighth inning to put the Tigers in front after the Royals tied the game at 2. He also hit a two-run homer to left in the second inning. It was the fourth multi-homer game of his career.
"I'm happy for him," manager Jim Leyland said. "Like I've said, if you look at Alex, it's been kind of a freak year. The average hasn't been where he wanted, but he has done damage with his hits."
Avila, who is hitting a career-low .222 this season, is batting .320 with a .921 OPS after the All-Star break. After battling injuries and a concussion, he seems to have found his groove at the plate.
"I'm just trying to hit the ball hard," Avila said. "There's nothing that I changed. There's no magic or secret to it. I'm just having some luck, some good swings, and I'm hitting the ball hard."
Scherzer took a no-decision in his fourth attempt to earn his 20th win, despite tying his season-high with 12 strikeouts over seven innings. He allowed one run on five hits, and was able to throw a first-pitch strike to 19 of the 26 hitters he faced.
"It doesn't matter about strikeouts, it matters about success," Scherzer said. "If you throw strike one, you're going to be successful in this league. When you can do that, it puts you in good situations and forces their hand."
Scherzer's only mistake was a 2-0 pitch in the fourth inning to Alex Gordon, who hit a solo home run to right field, cutting the Tigers lead to 2-1.
"With him, if he gives you a pitch to hit, you better go get it -- because he really has good location this year, and with his pitches, it makes it tough," Gordon said. "That's what I got 2-0 -- just got [a fastball] to hit and didn't miss it, so I was fortunate."
In the seventh inning, Salvador Perez hit a one-out single before Mike Moustakas lined a double to right. With runners on second and third, Scherzer was able to get Lorenzo Cain on a shallow flyout to right and an inning-ending groundout by Jarrod Dyson. Scherzer pounded his glove in celebration as he exited the game to a standing ovation.
"You're going to get hit, and you're going to get hit multiple times. But sometimes, it's how you pitch with runners on base," Scherzer said. "Today, I was able to pitch pretty well in those situations."
Scherzer was in line for the win, but the Royals were able to tie the game at 2 in the eighth. Alcides Escobar hit a leadoff double off reliever Drew Smyly. Two batters later, he stole third, and eventually scored on a wild pitch in the dirt that bounced down the first-base line.
Avila wasn't able to chase the wild pitch in time to preserve the Tigers' lead, but it set the scene for his heroics in the eighth.
"A slider that didn't have any depth, didn't get to where it was trying to get," said Royals starter Jeremy Guthrie, who allowed three runs on 13 hits in a complete game. "[Avila] puts a good swing on pitches in the zone like that."
Joaquin Benoit came on to pitch a scoreless ninth inning, earning his 20th save of the season.
Though Scherzer didn't get the win, he was back in rhythm after going only four innings in his last start, his shortest outing of the season.
"You could tell that Max was locked in," Leyland said. "He was absolutely terrific. It's a shame [he didn't get the win], but that's the way it goes. We almost had a chance to get one out of there, and maybe get him a win. But he was just as happy that the team got the win. That's Max."
Scherzer will have to wait for his next start to get another chance at his 20th victory, but he's focused on a different goal.
"I'm not sitting here chasing personal stuff down, I'm trying to win for the team," Scherzer said. "This is all about trying to get us into the postseason. I don't care if I win another game. If we win our division, that's all that matters."
Bobby Nightengale is an associate reporter for MLB.com. This story was not subject to the approval of Major League Baseball or its clubs.