Dingers hurt Turner as Marlins settle for split
Dingers hurt Turner as Marlins settle for split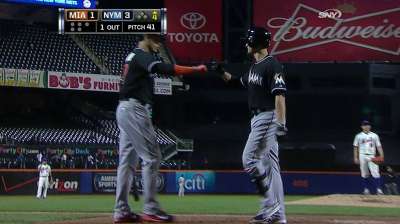 NEW YORK -- The Marlins are striving to get Jacob Turner some positive momentum to build upon as the 22-year-old continues his development. There were encouraging signs by the right-hander on Saturday night against the Mets.
Despite striking out six, Turner was hurt by back-to-back homers to Daniel Murphy and Lucas Duda, and the Mets held on for a 3-1 win to salvage a doubleheader split at Citi Field.
"I feel like that was probably the best I've thrown in a while, as far as making quality pitches," Turner said. "I left a curveball up to Murphy, and he seems to have my number. The ball to Duda, I was just trying to go in, but it crept back over the plate. But there were a lot of good signs."
The way Daisuke Matsuzaka was throwing, the veteran didn't need much offensive support to collect his first victory since joining the Mets. Matsuzaka limited the Marlins to two hits in seven innings. The big blast was Justin Ruggiano's homer.
"The way he pitches, he was throwing breaking balls behind in the count and keeping hitters off-balance," Marlins manager Mike Redmond said. "He was probably a good guy to pitch after a long first game and a long day. But you tip your cap. Other than to Rugg, he was really good."
Miami had just four hits on the night, and the lack of offense was the primary reason the team wasn't able to gain a Saturday sweep. The Marlins won the opener, 3-0, behind seven stellar innings from Henderson Alvarez.
"I thought Jacob Turner looked all right, despite giving up the two home runs," Redmond said. "He gave us a chance to win. The bullpen did a nice job keeping us in the game and giving us a chance. Offensively, we just couldn't get anything going. Really, Rugg got the home run, and that was pretty much it. It was pretty light."
Turner was unable to snap his string of consecutive losses. He has now dropped six straight decisions, and he has gone 12 straight starts without a win since he beat the Braves on July 10.
The Marlins are weighing whether to shut Turner down at some point. The right-hander has 112 2/3 innings at the big league level, and 179 total, counting 10 starts to open the year at Triple-A New Orleans.
"Physically, I feel good," Turner said. "It's just a matter of going out there every start and competing as hard as you can with no matter what you have. That's really what I'm working on. If I have my A-stuff, that's what I got. If I got my B-stuff, that's what I got. I'm just trying to finish the season strong."
For the seventh straight start, Turner didn't work deeper than five full innings. Because he was at 103 pitches on Saturday, he was done after five.
Keeping the ball in the park has also been an issue for Turner, who also allowed two home runs in his previous start, a loss to the Nationals. And he's given up at least one homer in three straight outings.
There were some uneasy moments in each game for Miami. In the first game, Donovan Solano was hit twice by Carlos Torres pitches. In Game 2, it was Placido Polanco's turn. The veteran third baseman was plunked twice by Matsuzaka. A month ago, Polanco was placed on the seven-day concussion list after he was struck on the left side of the helmet by a pitch on Aug. 16 against the Giants.
Hits were scarce for the Marlins in Game 1, as they had just six. But they made them count, including a Logan Morrison RBI single to open the scoring and a Solano homer.
Off Matsuzaka in Game 2, the Marlins were held hitless for 3 1/3 innings before Ruggiano came through with a home run to left field. It was Ruggiano's 17th shot of the season, and it narrowed Miami's gap to two runs.
"This guy competes," Mets manager Terry Collins said of his veteran pitcher. "He's competed his entire life, any stage, any situation. Never gives in. What he's doing right now is making pitches with all his pitches."
Turner had his ups and downs early. The first five outs he recorded were strikeouts. However, in the first inning, he allowed a run after getting into two-out trouble. Murphy singled and stole second. Duda walked, and Wilmer Flores delivered an RBI single to open the scoring.
Back-to-back homers by Murphy and Duda to start off the third inning gave the Mets a three-run advantage. It was the third time this year New York has gone back to back, and first since Aug. 16 at San Diego.
"I thought Turner made some pitches when he needed to," Redmond said. "I thought it was good for him to get through that fifth inning. Confidence-wise, I think that helped him. I saw some good things. His command was better in the strike zone. He gave up the two big hits, but he was much better tonight."
Joe Frisaro is a reporter for MLB.com. He writes a blog, called The Fish Pond. Follow him on Twitter @JoeFrisaro. This story was not subject to the approval of Major League Baseball or its clubs.