Homers back Dice-K in first W in more than a year
Homers back Dice-K in first W in more than a year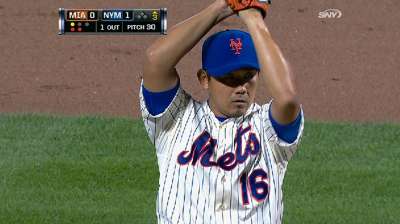 NEW YORK -- If the Mets and Marlins wanted a reminder of where they stood Saturday, doing battle for more than six hours of a twi-night doubleheader at Citi Field, they needed only to glance at the out-of-town scoreboard. There, yellow lights recorded the progress of the Yankees, Rays and a dozen other teams still in realistic postseason contention.
Once again, the Mets are not among them. After being officially eliminated earlier this week, they clinched their fifth consecutive losing season by dropping a 3-0 contest in Game 1 Saturday. Hours later in the nightcap, New York salvaged a 3-1 victory behind Daisuke Matsuzaka, whose second consecutive strong start put a positive spin on an otherwise dreary day.
"I'm not surprised," manager Terry Collins said of Matsuzaka. "This guy competes. He has competed his entire life at any stage, any situation, never gives in. And what he's doing now is making pitches."
Coming off by far his best outing as a Met, Matsuzaka picked up precisely where he left off last Sunday in Cleveland. Taking a no-hitter into the fourth, he allowed his only run on a Justin Ruggiano homer with one out in the inning, before retiring nine of the next 10 batters he faced.
"He was throwing breaking balls behind in the count and keeping hitters off-balance," Marlins manager Mike Redmond said. "He was probably a good guy to pitch after a long first game and a long day."
The Mets gave their starting pitcher some early offense on Wilmer Flores' RBI single in the first, then tripled their output on back-to-back homers from Daniel Murphy and Lucas Duda in the third. Coming into this weekend with one home run every 1.3 home games, the Mets have now bashed four in their last three contests.
Given that sort of backing, Matsuzaka gave the Mets seven comfortable innings of one-run ball. After going 0-3 with a 10.95 ERA in his first three starts as a Met, Matsuzaka is 1-0 with a 1.42 mark in his last two, winning his first game since Aug. 27, 2012.
"As a pitcher, once you get on the mound, the most important thing is to get outs," Matsuzaka said through his interpreter. "Not being able to do that, not being able to pitch the way I want was very stressful. It was a hard time for me. But the important thing was to accept the situation that I was in, and I was able to do that the last two outings."
It was a nice carrot for a Mets team that has had precious little to enjoy this month. Often in September, non-contending clubs can at least take solace in looking through the windows of their future. The season's final month is typically a time for top prospects to make their debuts, future stars to emerge, or veterans to put positive spins on otherwise disappointing seasons.
Yet it has been a strange month for the 2013 Mets, who are playing nightly with many of their core players sidelined. Starting pitcher Matt Harvey is done for the year due to a partial UCL tear in his right elbow, and the Mets will soon shut down fellow starter Zack Wheeler on an innings limit. Closer Bobby Parnell has not played for the last seven weeks due to injury. Third baseman David Wright has not appeared in a game for six weeks, first baseman Ike Davis for two.
Of Saturday's two starting pitchers, only Game 1 loser Carlos Torres is likely to stick around next season, most likely in a reserve role. Many of the batters in New York's starting lineup will compete for jobs in Spring Training, but only Murphy -- assuming he is not traded -- will enter camp with his name written in ink.
So it has been an atypical September for the Mets, whose players sit largely in baseball purgatory. Earlier this week, Collins spoke sternly about some of his younger players not seizing the opportunities in front of them. The Mets responded with a strong win Friday night to snap a four-game losing streak, then a split in Saturday's doubleheader.
Now 14 games remain for them, with little to anticipate outside of Wright's return. The Mets are all but assured of finishing at least in fourth place, though no better than third. They can still approach a .500 record, but no longer reach it.
It is their job, then, to make something out of nothing, with 14 more opportunities to do so.
Anthony DiComo is a reporter for MLB.com. Follow him on Twitter @AnthonyDicomo. This story was not subject to the approval of Major League Baseball or its clubs.