Paxton continues to impress with six scoreless frames
Paxton continues to impress with six scoreless frames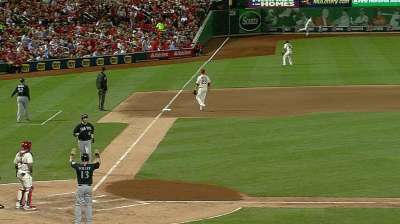 ST. LOUIS -- James Paxton fired six scoreless innings at the Cardinals in his second Major League start on Saturday as the Mariners rookie southpaw continued making an excellent late-season impression in a 4-1 victory.
Paxton, who beat the Rays 6-2 in his big league debut last week, backed that effort up with an even more impressive performance in front of 41,374 fans at Busch Stadium in which he allowed just two hits with two walks and five strikeouts before being replaced with a 2-0 lead in the seventh.
"I was really just locked in on the catcher," Paxton said. "I didn't hear the crowd much or notice how many people were there until they took me out of the game. Then I said to somebody, 'Wow, it's loud. There's a lot of people here, huh?' But I just stayed locked in and focused on what was going on."
Paxton is now 2-0 with a 0.75 ERA, having allowed just one earned run and six hits in 12 innings. The only hits he allowed Saturday were an infield nubber by opposing pitcher Michael Wacha in the third and a single to right by David Freese in the fifth.
Paxton, 24, became just the second Mariners starter to open a Major League career with back-to-back starts of at least six innings with one or fewer earned runs allowed, joining Erik Hanson in 1988.
Pretty heady stuff for a youngster who was 8-11 with a 4.45 ERA in 26 starts for Triple-A Tacoma before getting the September callup by the Mariners. Rookie catcher Mike Zunino, who worked with Paxton in the Minors, said he's somehow finding a comfort level on the big stage.
"It's awesome," said Zunino. "I think this is the most relaxed and best I've seen him pitch since I've caught him. He's got a lot of confidence and obviously getting the callup gave him a little boost, too. He's just going out there competing and that's really coming out in him."
"He's pitching in a very mature fashion for someone who has only had a couple starts," said manager Eric Wedge. "He's pitching with a great deal of confidence and seems to be calm out there. The ball is jumping out of his hand. It's only been a couple outings, but there have been some good things to see and he's done it against a couple good ballclubs."
Saturday's showing came against the National League Central-leading Cardinals, who fell back into a tie with the Pirates at 86-62 with the loss. Seattle (66-82) snapped a five-game losing streak and handed rookie right-hander Wacha his first loss in seven starts.
"He was tough," Cardinals second baseman Matt Carpenter said of Paxton. "I think the fact that we had never faced him before worked to his advantage tonight. Not to take credit away from him, because he made good pitches as well. He kept the ball out of the middle of the plate and we weren't able to really get anything going against him."
The Mariners ended a 23 2/3-inning scoreless streak by Wacha when right fielder Franklin Gutierrez ripped a two-run double to left in the fifth. That key hit followed some successful small ball by Seattle, as Dustin Ackley singled and Paxton drew a four-pitch walk while trying to lay down a bunt.
Shortstop Brad Miller then successfully sacrificed the two into scoring position, and both crossed the plate on Gutierrez's shot to left field.
"That was very important right there," Gutierrez said. "The inning before, we had the bases loaded and didn't score. I had an at-bat there and couldn't do anything. But in that situation, I went up there and tried to see the first pitch. I thought he'd try to get ahead and that's what he did. He threw me a fastball right there and I hit it good and it was huge in that situation."
The walk of Paxton was a critical mistake for Wacha, given the Mariners pitcher hadn't hit in a game in 10 years, since he was a 14-year-old in British Columbia. No Seattle pitcher has had a hit yet in Interleague play, with the hurlers combining to go 0-for-19 with two walks with one crossover game remaining Sunday in the series finale.
"That was a little nerve-wracking," Paxton said with a laugh. "I didn't really know what to do with the bat after I walked. So I just kind of dropped it and then told the umpire when I was at second that I hadn't run the bases in about 11 years. That gave him a little chuckle. But it was fun to be out there and doing that."
First baseman Kendrys Morales increased Seattle's lead to 3-0 with a leadoff home run in the eighth off reliever Tyler Lyons. Morales went 2-for-4 on the night and now has 22 homers and a team-leading 77 RBIs.
The Cardinals finally crossed the plate in the eighth when Carpenter hit a hustle double to right field, moved to third on a groundout and scored on a wild pitch by Charlie Furbush.
A sacrifice fly by Carlos Triunfel in the top of the ninth restored Seattle's lead to 4-1 and provided a little cushion for Danny Farquhar, who came on in the ninth for his 14th save in his first action since blowing the lead in a loss to the Astros on Monday.
Greg Johns is a reporter for MLB.com. Follow him on Twitter @GregJohnsMLB as well as his Mariners Musings blog. This story was not subject to the approval of Major League Baseball or its clubs.