Pence closing in on historic starting feat
Pence closing in on historic starting feat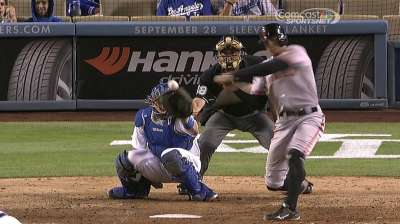 LOS ANGELES -- Right fielder Hunter Pence has started each of the Giants' 149 games and seems poised, barring unforeseen circumstances, to become the first player since the franchise moved to San Francisco in 1958 to start all 162 games.
Pence would not be the first Giant to play in every game of the season. First baseman Will Clark appeared in 162 games in 1988 but started 157. Center fielder Willie Mays played every game in 1961, the final year that the Major League schedule consisted of 154 games. He started 151. One year earlier, Mays played 153 of 154 games, starting 152.
In 1962, when the three-game playoff with the Dodgers expanded the Giants' season to 165 games, four players exceeded 160 appearances. Shortstop Jose Pagan played 164 games, which remains the franchise record, and started each one. Mays and first baseman Orlando Cepeda played 162 games apiece, starting 158 and 156, respectively. Second baseman Chuck Hiller also kept busy, appearing in 161 games and starting 158.
Only eight other Giants have played as many as 160 games in a season: Jim Ray Hart (1965), Willie McCovey (1965), Tito Fuentes (1973), Bobby Bonds (1973), Darrell Evans (1979), Brett Butler (1990), J.T. Snow (161 in 1999) and Pedro Feliz (2006). Bonds played 153 of 155 games in the strike-shortened 1972 campaign.
Chris Haft is a reporter for MLB.com. This story was not subject to the approval of Major League Baseball or its clubs.