Hanley wants to return quickly from nerve issue
Hanley wants to return quickly from nerve issue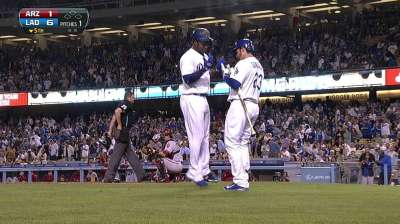 LOS ANGELES -- Hanley Ramirez thought he could continue to play through the discomfort he'd been feeling in his left hamstring for several weeks, but it reached a tipping point Thursday night, the shortstop said.
Ramirez knew the tingling sensation in his hamstring was a result of a nerve issue in his lower back that he's dealt with for two years. But after playing six innings Thursday, something changed and Ramirez decided to tell the Dodgers' athletic training staff what was going on.
"I knew what it was," Ramirez said Saturday. "I knew it was a nerve. I was feeling a little bit of tingling down my legs. I kept playing. I just got to the point that I told myself that I have to tell them what was going on and see if we can fix it for the playoffs. I don't want to be like this by that time."
Ramirez is out through the weekend at least after having two cortisone injections in his lower back Friday. For now, the discomfort in his hamstring has subsided.
"I'm good," Ramirez said. "I'm just sore where they put that needle. Everything else feels good. I'm just waiting for the soreness to go away and we'll see after that. I thought it was going to be worse. ... The only reason we did [the injection] was because I know I want to be on the field by playoff time."
While Ramirez missed two weeks in 2011 with a similar issue, he said that injury was "way worse." If the discomfort in his hamstring returns again this season, Ramirez said he would try to play through it and avoid another injection.
"We'll see how long it lasts and see how I feel," he said. "I don't think I'm going to need another one because I don't want to miss a couple days. We don't need that. I'm just going to keep going. Like I told them, if it would have been the playoffs I would have been on the field."
The Dodgers could clinch the National League West by Sunday and Ramirez wants to play as much as possible over the final two weeks of the regular season to stay sharp for October.
"I want to keep playing," he said. "We haven't reached our goal yet. ... I'm not the same player when I get too many days off, like four or five. It takes me a little while to get my timing back. That's why they would try to give me a day off and I would tell them no. I'm a gamer."
Austin Laymance is an associate reporter for MLB.com. This story was not subject to the approval of Major League Baseball or its clubs.