Rays wait out rain to join Texas atop WC standings
Rays wait out rain to join Texas atop WC standings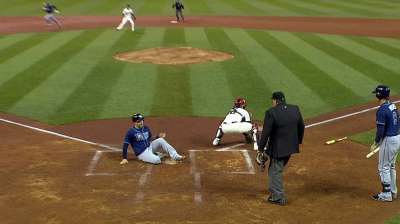 MINNEAPOLIS -- Prior to Saturday night's contest with the Twins, Rays manager Joe Maddon said that despite the rainy forecast, his team would wait as long as necessary to complete the game. And after a two-hour, four-minute rain delay in the mid-fourth, the Rays beat the Twins, 7-0, at Target Field, joining Texas atop the AL Wild Card standings.
Cleveland trails the two Wild Card leaders by 1 1/2 games, followed by the Yankees, who are three behind, and the Orioles and Royals, both 3 1/2 behind.
Not the chill in the air, the soggy field conditions nor the rain that pounded Target Field could stop the Rays from claiming their 81st victory of the season and their 11th straight win over the Twins.
The rain did, however, bring an end to Matt Moore's night on the mound. Moore cruised through three scoreless innings, giving up just one hit and striking out five on 60 pitches, but couldn't pitch the required five innings to earn his 16th win.
Moore said he realized about an hour into the rain delay that his night was finished.
"I knew when we got word it was going to be a lot longer, and [Maddon] said, 'We are not going to do this,'" Moore said. "It's not as frustrating, at least for me, when there are two hours in between a game. I can understand that, absolutely."
The stoppage in play was unfortunate for Moore, but it could've been much worse for the Rays. If the game was called, the 4-0 score would've been wiped away, because the game was not official, and the teams would have likely played a doubleheader on Sunday.
Maddon praised the job done by umpire Jerry Layne and the Twins' grounds crew in their efforts to ensure the game was completed.
"I though Jerry Layne and his crew did a great job tonight, communicating well. On top of that, their groundskeepers -- that was a great job with the field. I would've said the same thing had we not won that game," Maddon said.
Twins Manager Ron Gardenhire was not ready to blame the weather on his team's second consecutive shutout at the hands of the Rays, and he admitted his team just didn't play very well.
"It's not easy, but they had to play in the same thing we did. We just didn't get it done. We didn't play worth a flip and they did. We missed opportunities, because their pitching staff shut us down," he said.
The task of continuing what Moore had started was left to multiple relievers, including Brandon Gomes, Wesley Wright, Jamey Wright, Roberto Hernandez and Cesar Ramos, who combined to toss six scoreless frames. Maddon said Gomes, who entered the game in the fourth inning immediately following the delay, set the tone for the bullpen.
"I thought Gomes really came in and put some structure to the game, because he was throwing strikes. I thought Wesley was good, too," Maddon said.
The offense showed signs of life after recent struggles.
"We swung the bats, I thought, really well all night. We got a couple of things that fell for us, but we hit a lot of balls hard for outs. I like all of that, because I think our at-bats have gotten better," Maddon said.
Desmond Jennings, Yunel Escobar, Evan Longoria, Sean Rodriguez and Jose Lobaton each drove in at least one run. The Tampa Bay offense was paced by Jennings, who had two doubles and two RBIs, and Escobar, who went 2-for-3 with two runs scored. Jennings said he has seen a bit of a turnaround lately in the Rays' offensive department.
"We are playing better the last couple of days. We are finding ways to win. We are hitting better. We are getting guys in scoring position and finding a way to get them in," he said.
According to Gardenhire, "Those guys seem to find a way. You saw their bullpen come in and shut us down. They are a pretty good baseball team and find ways to win ball games."
Joe Kieser is a contributor to MLB.com. This story was not subject to the approval of Major League Baseball or its clubs.