Albers, Twins overmatched by Rays on rainy night
Albers, Twins overmatched by Rays on rainy night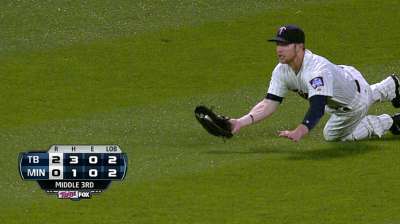 MINNEAPOLIS -- It's never fun playing a game in constant rain, and then having to sit through a lengthy weather delay.
But it was even worse for the Twins on Saturday night, and the weather wasn't the only thing bothering Twins manager Ron Gardenhire.
Left-hander Andrew Albers struggled before the two-hour, four-minute delay, and the Twins were shut out for a second straight game in a 7-0 loss to the Rays on Saturday night at Target Field.
Gardenhire called his team out for the way they played, as they managed just four hits and were shut out in back-to-back games for the first time this season. The Twins have been outscored by the A's and Rays, 36-5, over their last four games.
"It's not easy, but they had to play in the same thing we did," Gardenhire said. "We just didn't get it done. We didn't play worth a flip and they did. We missed opportunities mostly because their pitching staff shut us down. And they got hits. They're in a pennant race and have a lot on the line, and they're hungry, so we have to find a way to stay in these games."
Albers, coming off a strong start against the Blue Jays, didn't fare well in his four innings of work, giving up four runs on six hits and a walk with one strikeout.
The Rays opened the scoring with a sacrifice fly from Sean Rodriguez in the second to score Wil Myers, who led off the inning with a bloop double.
Tampa Bay scored again in the third on an RBI double from Evan Longoria. Oswaldo Arcia had trouble getting the ball in the right-field corner because of the rain puddles on the warning track, allowing Jose Lobaton to score from first.
The Rays tallied two more in the fourth with Yunel Escobar bringing home a run on a single before Lobaton added a sacrifice fly. It was the final half-inning before the rain delay.
"I felt like I made a couple of good pitches, and they found holes," Albers said. "Myers hit that pitch, and it's just baseball. It's a good pitch, and you feel like you beat the guy, and it sneaks in six inches from the line. And then Longoria hit another good pitch the next inning and sneaks that one in. And in the fourth, I left some pitches up and they took advantage."
Right-hander Josh Roenicke took over for Albers after the delay, throwing 1 2/3 innings in relief. He gave up a two-run double to Desmond Jennings in the sixth. But he wasn't helped by Josh Willingham in left field, who had trouble getting the ball off the wet warning track for an error that allowed the second run to score. The Rays capped the scoring with another RBI double from Jennings in the eighth against reliever Shairon Martis.
"We swung the bats, I thought, really well all night," Rays manager Joe Maddon said. "We got a couple of things that fell for us, but we hit a lot of balls hard for outs. I like all of that, because I think our at-bats have gotten better."
Rays left-hander Matt Moore was impressive until the rain delay ended his strong performance. He gave up just one hit over three scoreless innings, striking out five, but did struggle with his command and walked three.
"I don't see any reason why it would hurt me," Moore said about throwing just three innings. "If anything, I think having some pitches off my arm hopefully will benefit me this week."
The Twins had chances against him in the second and third innings with two runners on and two outs, but stranded all four, going 0-for-2 with runners in scoring position with Moore on the mound. Minnesota went 0-for-4 with RISP on the night and was shut out in two straight games for the first time this year.
Relievers Brandon Gomes, Wesley Wright, Jamey Wright, Roberto Hernandez and Cesar Ramos combined to throw the final six innings for the Rays, who handed the Twins their fourth straight loss. The Rays have now won 11 straight against Minnesota dating back to April 21, 2012.
"Those guys seem to find a way," Gardenhire said. "You saw their bullpen come in and shut us down. They're a pretty good baseball team and find ways to win ballgames. That's why they're in a pennant race. And we're not finding ways. We're missing opportunities, and we're just overmatched right now."
Rhett Bollinger is a reporter for MLB.com. Read his blog, Bollinger Beat, and follow him on Twitter @RhettBollinger. This story was not subject to the approval of Major League Baseball or its clubs.