Baker impressive again, but Cubs edged in Pittsburgh
Baker impressive again, but Cubs edged in Pittsburgh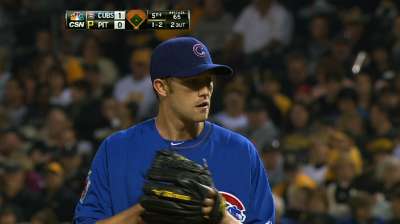 PITTSBURGH -- The Cubs just want to see if Scott Baker is healthy, and on Saturday he took another step toward showing he's recovered from Tommy John surgery.
All the Pirates want is to get to the postseason, and they took another step in that direction, too. Marlon Byrd smacked a tie-breaking solo home run with one out in the seventh against his former team to lead the Pirates to a 2-1 victory over the Cubs.
Pittsburgh is now tied with St. Louis for first place in the National League Central and maintained a 2 1/2-game lead over Cincinnati, which beat Milwaukee on Saturday and holds the second NL Wild Card spot.
Baker isn't worried about any of that. He's not even looking ahead to next year. Last Sunday against the Brewers, he made his first start since undergoing Tommy John surgery on his right elbow in April 2012, throwing 55 pitches over five shutout innings. On Saturday, he threw 75 over six innings.
"I'm getting to enjoy doing something that was taken away from me for a little bit," Baker said. "It's definitely fun to go out there and compete, first and foremost. When you give your team a chance to win, that's really all you can do."
Baker did hit 90 mph on the PNC Park radar more often than he did in his first start against the Brewers. He also went deeper into the game, although the Cubs didn't deem that necessary.
"That's not a concern at all, not in September when we have plenty of arms in the bullpen," Cubs manager Dale Sveum said. "We're not out here for him to injure that thing or have a setback. It's just a matter of him getting on the mound and doing things for his own good as well as the organization."
One of Baker's pitches did sail over the center-field wall as Jose Tabata connected on his fifth home run with one out in the sixth to tie the game at 1.
"He threw the ball really well again," Sveum said of Baker. "There's still something there, that's for sure. He's done a good job."
Baker admitted he didn't have a good feel for his pitches early in the game.
"I was happy with the fact I was able to make the adjustment early, because that's what it takes against a good lineup like that," he said. "They're going to make you pay if you continue to throw balls up in the zone."
Is his velocity where he wants it to be? Not yet.
"Thankfully, I feel my stuff plays a little harder than what the radar gun says," he said.
There's something to be said for a pitcher who can outsmart, and not necessarily overpower, hitters.
"He's got good arm action," Sveum said of Baker. "Tonight, he threw some good changeups. He pitches more north and south than he does sideways. He's not a guy who will pitch down and away. He gets a lot of pop ups and swings and misses for a guy who isn't lighting up the radar gun."
The Pirates didn't have much of a scouting report on Baker, who took advantage of that.
"They haven't seen me this year, so I think there's a level of deception there which might not be there if I faced them four or five times throughout the year," Baker said. "I live and die by throwing the ball over the plate. Right now, do I have my best stuff? No. I have to pitch a little bit. At the same time, it's about getting ahead of guys and making good two-strike pitches."
Pirates manager Clint Hurdle was impressed.
"The ball is moving. He was able to pitch up in the zone and stay up in the zone at our hands and higher, and we weren't able to get the ball down and weren't able to square too many balls up," Hurdle said of Baker.
The Cubs took a 1-0 lead in the first against Gerrit Cole. Starlin Castro singled to lead off the game, and Anthony Rizzo walked one out later to set up Nate Schierholtz's RBI double. Rizzo tried to score as well but was thrown out at home on a 9-4-2 relay.
Cole was coming off a win against the Rangers in which he struck out nine over seven scoreless innings.
The key at-bat, Sveum said, came in the seventh against pinch-hitter Dioner Navarro. The Cubs had runners at second and third and one out, and Cole threw four straight sliders, topping at 86 mph, then got Navarro swinging at a 96-mph fastball to strike out.
"I think that at-bat against Navarro, that's a guy with the power and the savvy at a young age," Sveum said. "That's a power arm, and to know [Navarro] and how he set that at-bat up and rear back and throw 97, 98 [mph], that's a nice asset to have. I was more impressed with how sharp [Cole's] breaking balls were than his velocity."
Byrd, whose other home run with Pittsburgh came on Aug. 28 -- the day he joined the team after a trade with the Mets -- connected off James Russell on a 1-0 pitch in the seventh for his 23rd home run overall.
"I was sitting on one pitch trying to get a fastball and just tried to elevate it," Byrd said. "He left it on the plate just enough so I could put a good swing on it."
It was all Cole needed for the win. The right-hander struck out seven over seven innings. Russell took the loss.
"You just wish it would be a single once in a while," Sveum said of Russell, who is 0-for-8 in save opportunities and 1-6 for the season. "A single you can deal with, with [Pedro] Alvarez coming up and [Carlos] Villanueva sitting in the wings with the rest of the right-hadners. Lo and behold, another home run to lose the game."
Baker will get one more start, and he's simply looking ahead to Sunday, when he'll do his postgame routine.
"I'm not really looking at next year, to be honest," he said. "I'm getting to do something I enjoy. I think those types of things, if all goes well, kind of take care of themselves. Next year is putting the cart before the horse."
Carrie Muskat is a reporter for MLB.com. She writes a blog, Muskat Ramblings, and you can follow her on Twitter @CarrieMuskat. This story was not subject to the approval of Major League Baseball or its clubs.