Bonifacio ejected after pickoff at first base
Bonifacio ejected after pickoff at first base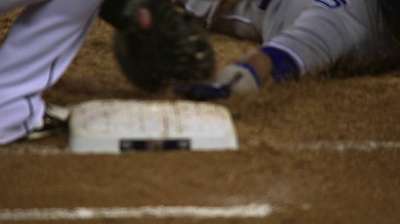 DETROIT -- Royals second baseman Emilio Bonifacio was ejected in the third inning of Saturday night's 1-0 victory after being called out on a pickoff play.
With Bonifacio on first after drawing a two-out walk, Tigers starter Doug Fister fired a throw to first baseman Prince Fielder. Bonifacio dove back and stretched a hand to the bag, but first-base umpire James Hoye ruled that Fielder had tagged him out.
Moments later, Hoye tossed Bonifacio out of the game.
"I didn't say anything to him. I just threw helmet and my [hand] guard," Bonifacio said. "Fister's got a good move over there. It was a close play, but I thought I was safe."
Chris Getz replaced Bonifacio at second base.
It was the second straight game in which a Royals runner was picked off first; Justin Verlander nabbed Jarrod Dyson in the Tigers' 6-3 win on Friday night.
It was the second ejection of Bonifacio's career; he was also tossed on July 4, 2011, playing for the Marlins against the Phillies. It was this season's fifth ejection for the Royals. Billy Butler was thrown out twice, Getz and manager Ned Yost once each.
Dick Kaegel is a reporter for MLB.com. This story was not subject to the approval of Major League Baseball or its clubs.