Time running out for CarGo to return
Time running out for CarGo to return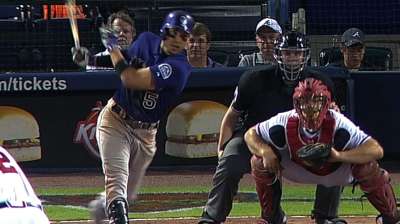 PHOENIX -- The Rockies haven't shut down Carlos Gonzalez from hitting for the remainder of the season, but they are perilously close to doing so with two weeks to go.
Gonzalez is suffering from what the club is calling a sprained joint in his right middle finger and hasn't had a plate appearance since Aug. 2.
"I'm not willing to say that yet -- that he's not going to swing the bat again," said manager Walt Weiss prior to Saturday night's game against the D-backs at Chase Field. "But it's getting to a point where we're getting pretty close here. I don't know if it's worth it to possibly set him back [as he goes] into the offseason."
Gonzalez displayed the swelling in the knuckle before the game and it hasn't appreciably gone down since he did the same thing this past weekend in San Diego. Gonzalez said there's a torn ligament in the area and that he's contemplating surgery.
He was reinstated from the disabled list on Sept. 3 and has only seen action in six games since as a late-inning defensive replacement in the outfield.
"I'm doing my treatment, hoping it will get better," he said. "But we're still seeing a lot of doctors, a lot of hand specialists to see what they think and whether surgery is needed. Some say yes, I need surgery, others say no. It's not getting any better. I can't grab a bat or anything. They tell me to just let it calm down. Hopefully it will get better."
Largely because of the hand injury, Gonzalez has played in only 109 games. He's batting .302 with 26 homers and 70 RBIs. At nearly 28, he's four years removed from his best season when he led the National League with a .336 batting average, 197 hits and 351 total bases in 145 games.
It's clearly frustrating.
"It is very much so," he said. "I'm used to playing every day. Not being able to swing the bat is one of the toughest parts for me. Not being able to play. That's what I love to do: go out there and compete every night. When I can't, it's very frustrating."
Barry M. Bloom is a national reporter for MLB.com and writes an MLBlog, Boomskie on Baseball. Follow @boomskie on Twitter. This story was not subject to the approval of Major League Baseball or its clubs.