Archer carrying Rays' reliable rookie mantle
Archer carrying Rays' reliable rookie mantle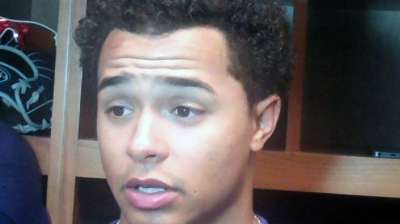 MINNEAPOLIS -- Having reliable rookie starters is nothing new for the Rays, and Chris Archer is just continuing the trend.
Archer notched his ninth victory on Friday in Tampa Bay's 3-0 victory over the Twins. For the past four seasons, a Rays rookie has won at least 10 games, so if Archer wins one more, he'll extend the streak to five years. The last time this feat was accomplished was 1947-52, when a Philadelphia A's rookie won at least 10 games in six consecutive seasons.
Rays manager Joe Maddon called Friday start "a perfect night's work" for Archer. He decided to take the rookie out of the game after just six innings and 87 pitches, partly because the Rays are in the middle of a playoff race.
"If it's a good game, you want to take him to what you think the limit is and take him out. If that game happened in July or June, he would've pitched into the seventh, easy, but under the circumstances, right now lets lets be prudent and try to squeeze all the utility we can out of him," Maddon said.
The rookie should have every opportunity to post that tenth win.
"My point is to continue to do what we've been doing. I think he can get three more quality starts," Maddon said.
On Friday, Archer gave up just three hits, struck out seven and didn't issue a walk. The four rookie pitchers the Rays have used this year -- Alex Torres, Alex Colome, Jake Odorizzi and Archer -- have combined to go 14-10 with an ERA of 2.84 and 168 strikeouts over 206 innings.
Joe Kieser is a contributor to MLB.com. This story was not subject to the approval of Major League Baseball or its clubs.