Maddon believes tough stretch will prepare Rays
Maddon believes tough stretch will prepare Rays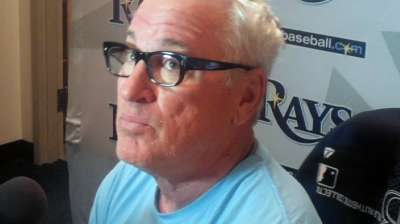 MINNEAPOLIS -- Instead of a woe-is-me attitude with regard to the Rays' tough schedule down the stretch -- which includes 11 of 15 games with fellow playoff contenders -- Rays manager Joe Maddon is embracing the challenge.
"Our schedule is difficult, no question, but that is a good thing, I think. That really should bring out the best in us. You have to beat the best to be the best," Maddon said.
The last half of September includes four games each with Texas and Baltimore and one more three-game series with the Yankees.
"We have a great challenge ahead of us. Boom. Let's go," Maddon said.
If the Rays perform well against the other contending teams, it could have the added benefit of preparing the Rays to be at the top of their game when the playoffs do begin. And make no mistake about it, Maddon believes that come the end of the season, his team will be in the playoffs.
"The thing I want to believe is that if we push through this, we will be ready and tested at the opening moment," Maddon said.
Heading into Saturday's game with the Twins, the Rays were holding on to the second AL Wild Card spot -- 1 1/2 games ahead of third-place Cleveland and a half game behind the Rangers, who sat in the top spot.
Joe Kieser is a contributor to MLB.com. This story was not subject to the approval of Major League Baseball or its clubs.