Scioscia balances playing time for LA backstops
Scioscia balances playing time for LA backstops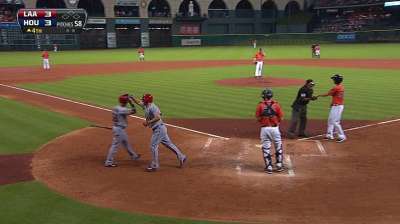 HOUSTON -- Making sure catchers get enough rest over the grind of a 162-game season can be a challenge for any manager, but Angels skipper Mike Scioscia played 13 big league seasons behind the plate and perhaps has a better understanding of that than anyone.
"They've shared the burden physically," Scioscia said of Chris Iannetta and Hank Conger. "There's not one guy that's been out there. Chris and Hank have been out there for, at this point in the season, 120 to 130 games. They've had time to catch their breath at times during the season."
Both have made their contributions offensively, with Iannetta hitting his 10th homer in Friday's opener and Conger entering Saturday's game hitting .258.
"On the offensive side, there's no doubt they've contributed a lot as we move into the last couple weeks of the season," Scioscia said.
But the juggling act can be challenging, even for a veteran skipper who has been there before.
"You plan it any way you have to to get the most production behind the plate," Scioscia said. "You want to mix and match a little bit. I think those guys have done a terrific job. As they play better, they earn more playing time.
"You see a guy like Hank come out and really do a good job swinging the bat left handed and working behind the plate, and it's gotten him more at-bats, more playing time, and it's helped us."
Glenn Sattell is a contributor to MLB.com. This story was not subject to the approval of Major League Baseball or its clubs.