Paid up: Irish's Pollock dons Michigan jersey
Paid up: Irish's Pollock dons Michigan jersey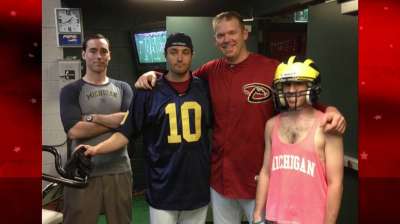 PHOENIX -- With the college football season in full swing, a couple of D-backs players made a friendly wager last weekend when their alma maters squared off. J.J. Putz, a product of Michigan, bet A.J. Pollock, a Notre Dame alum, that the Wolverines would take down the Fighting Irish.
So after Michigan's 41-30 victory, Pollock was forced to wear a Wolverines jersey on Saturday during batting practice before the D-backs' game vs. the Rockies.
"He paid up," Putz said. "But it's a special privilege to wear the Michigan colors anyways."
Even though he was disappointed his team lost, Pollock wasn't too upset about holding up his end of the bargain. Putz, who shared a dorm with Tom Brady in college, brought his No. 10 Brady jersey for Pollock to wear.
"Tom Brady is my favorite player, so I don't mind," Pollock said. "I can't complain too much."
The target of some good-natured ribbing on Saturday, Pollock will have a chance to take back bragging rights in the clubhouse in a couple weeks when Notre Dame faces Arizona State, which produced Willie Bloomquist.
"We we're actually talking about it today," Pollock said. "We'll see what happens, I'm sure we'll come up with something fun."
Tyler Emerick is an associate reporter for MLB.com. This story was not subject to the approval of Major League Baseball or its clubs.