Oswalt drops to 0-6 as D-backs rout Rockies
Oswalt drops to 0-6 as D-backs rout Rockies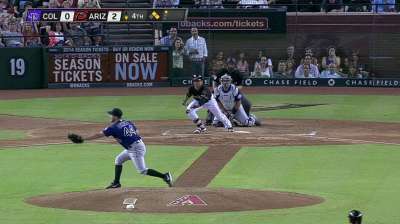 PHOENIX -- Rockies manager Walt Weiss said before Saturday night's game that if veteran right-hander Roy Oswalt was to come back to the club next season, it would be in his traditional role as a starter.
"I think right now we'd just consider him as a starter," Weiss said prior to another Oswalt loss, this one 9-2 to the D-backs at Chase Field. "We like a lot about him -- what he brings to our club in the way of intangibles and that kind of thing. All that stuff is in place and is really good."
Oswalt made his first start since July 7 after recovering from a torn left hamstring. But it was more of the same for the 36-year-old veteran of 13 seasons. Oswalt struck out the side in the first inning, surrendered a pair of runs in the second, and left with two out and the bases loaded in the fifth.
He's now 0-6 with 7.71 ERA in the six appearances (five starts) he's made since the Rockies signed him as a free agent on May 2.
"I know his numbers haven't been good, but we think he still has enough to go out there and win games up here," Weiss said. "I've seen the ball come pretty good out of his hand at times this year. I just want to get a good look."
Oswalt had his moments. He whiffed Adam Eaton, Aaron Hill and Paul Goldschmidt in succession to open the festivities, Eaton and Goldschmidt swinging.
Otherwise, he struggled. The D-backs blasted six doubles on the evening, including a back-to-back pair in the second inning by rookie Matt Davidson and Gerardo Parra. The latter of the two drove in two runs, giving the D-backs an early 2-0 margin, a lead they never surrendered.
Oswalt allowed seven hits, walked one and whiffed five, throwing 83 pitches before he was lifted with the bases jammed in the fifth. Reliever Rob Scahill came on and induced Martin Prado to pop up for the final out of the fifth, or Oswalt's numbers for the outing would have been much worse.
"I haven't thrown in nine weeks. My first outing was three innings out of the bullpen," Oswalt said when asked whether he would rather have remained in the game to work out of the inning. "That was 45 pitches, I think. I was already up to 80. I mean, I didn't have much more. That's why I was throwing so many strikes. I was trying to get into the seventh inning."
With only two weeks left in the season, Oswalt right now said he's just thinking day to day. He's dealt with a bad back that sidetracked what once was a brilliant career and hasn't had a full season since 2010, which he split between the Astros and the Phillies.
The back feels great, he said. He may have as many as three more starts to determine whether there's more baseball in his future.
"I haven't really thought past tomorrow," Oswalt said. "Like I said, I try to go day to day. Sometimes you get a little too far out in front. Something happens and you never know, really. This is probably one of the best front offices I've played for. The front office believes in its players and stands behind them. I'd just like to come in tomorrow and feel good and make it to the next start."
The hamstring injury was a fluke, happening right here in the second inning on July 7 as he attempted to cover the plate.
"If somebody told I'm going tear a hamstring on that kind of play, I'd have told them they were crazy," he said.
Coupled with starting late, once again he's dealt with a truncated season.
"I started behind the eight ball early," he said. "It wasn't my fault I started late. I really had no place to play."
Now he may have another home. The Rockies are always looking for veteran pitchers, and they want to bring in a few to compete for starting spots when Spring Training opens at nearby Salt River Fields in February.
If healthy, would he like to pitch another year?
"Sure," Oswalt said. "I feel like I still have good enough stuff to get outs. I started three games and the next thing you know I tore my hamstring pretty bad. Now I'm trying to come back from it. Everybody else got to play seven months. And I've been out for two months, trying to come back in the thick of things.
"It's going to come down to health, for sure. If I don't feel like I can go out there and throw 35 starts, I'm not going to come back and throw 15 or 20. That's just not me. It will come down to how I feel going into the offseason."
Barry M. Bloom is a national reporter for MLB.com and writes an MLBlog, Boomskie on Baseball. Follow @boomskie on Twitter. This story was not subject to the approval of Major League Baseball or its clubs.