Moreland's struggles continue at the plate
Moreland's struggles continue at the plate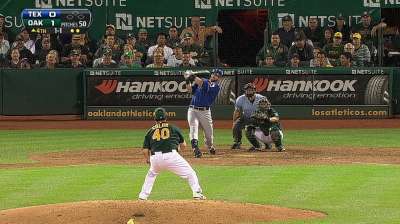 ARLINGTON -- While Mitch Moreland is still having fun playing baseball, his career-high, nine-game hitless streak has been far from enjoyable.
The first baseman went 0-for-3 with a walk and recorded three strikeouts on 10 pitches in the Rangers' 1-0 loss to the A's on Saturday. Moreland is now 0-for-21 with 14 punchouts in his last nine games.
"I'm working on it, trying to go up there and battle every at-bat to get a good pitch to hit," Moreland said. "It hasn't gone like I planned on it to, but we get to play every day. [I'll] come back tomorrow and try to do it again."
Moreland drew the walk with two outs in the ninth inning against A's closer Grant Balfour on six pitches. But his previous three plate appearances against Bartolo Colon weren't pretty. He struck out on three pitches in the second and fourth innings, and on four pitches to leadoff the seventh. The left-handed hitter's strikeout in the fourth ended the inning with runners at second and third. Moreland's recent struggles have also carried over to when runners are in scoring position, with the first baseman going 3-for-27 (.111).
"Right now, he's just swinging and missing and not putting the ball in play," said manager Ron Washington. "We're doing everything we can do. Once those guys get in the box, they are on their own."
Moreland said he didn't approach the aggressive Colon differently than he would any other pitcher. His average has dropped from .246 to .233 -- the lowest it's been since he was hitting .225 on April 27 -- over the last 14 games, while going 3-for-34 during that stretch.
"It's a game. You're going to have your ups-and-downs," Moreland said. "You're not going to have your best day every day. People go through slumps all the time, teams go through slumps. It's part of it. You're not going to pitch your best all the time, hit your best all the time, play your best defense. You just keep working, have fun and make the most of it."
T.R. Sullivan is a reporter for MLB.com. Read his blog, Postcards from Elysian Fields, and follow him on Twitter @Sullivan_Ranger. Master Tesfatsion is an associate reporter for MLB.com. This story was not subject to the approval of Major League Baseball or its clubs.