Francisco takes liner off pinkie, suffers contusion
Francisco takes liner off pinkie, suffers contusion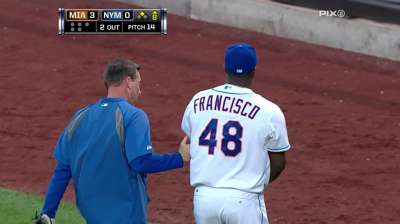 NEW YORK -- Mets reliever Frank Francisco left Game 1 of Saturday's doubleheader in pain, after taking a Logan Morrison comebacker off his right pinkie finger. It was Francisco's fourth appearance since making his long-awaited season debut earlier this month.
Francisco gave way to David Aardsma -- who recorded the final out of the inning -- and ultimately left the park to receive X-rays on his hand, which revealed a contusion but no break.
With two outs in the eighth inning at Citi Field, Morrison appeared to ask for time on an 0-2 pitch. But when home-plate umpire Tim Welke did not grant it, Morrison reset himself and hit Francisco's 92-mph fastball back up the middle. It struck the pitcher on the flesh near the base of his right pinkie, prompting him to clutch his hand in pain as he walked off the field.
"It swelled up pretty fast and pretty big," Mets manager Terry Collins said.
This has been an injury-riddled summer for Francisco, who reported to Spring Training as the Mets' incumbent closer. Losing that job when it became clear that he was not yet recovered from offseason surgery to remove a bone spur from his elbow, Francisco proceeded to spend the next five months rehabbing back to health. He finally made his season debut Sept. 8 in Cleveland, but gave up three combined runs over his next two outings.
"I don't know if I can sleep tonight," Francisco said when asked about his frustration level. "It's something that I can't even explain. I just hope that it goes away soon and I'll be able to throw as soon as possible."
Francisco, who will be a free agent after this season, made $6.5 million this year in the second half of a two-year, $12 million deal.
Anthony DiComo is a reporter for MLB.com. Follow him on Twitter @AnthonyDicomo. This story was not subject to the approval of Major League Baseball or its clubs.