Leesman getting accustomed to relief role
Leesman getting accustomed to relief role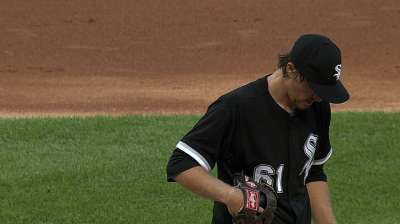 CHICAGO -- Charlie Leesman understands the White Sox could call on him during Saturday night's contest if starter Andre Rienzo gets in trouble or even if they need an out or two in the middle innings. Developing that reliever mentality, which could allow the 26-year-old to make the big league roster in '14, has been a work in progress for the career starter at the Minor League level.
"It's definitely different being out of the bullpen, especially for the first time being in the big leagues of all places," Leesman said. "But, overall, my body feels good.
"I'm getting more adjusted to it. I'm not on the edge of my seat from the first inning on. I kind of relax for a little bit and then kind of kick it in when I have a feeling. I have an idea of when I could be used now.
"And when I can kind of foresee things happening, I get up and get going from there," Leesman said. "It's a little bit tough, but each day that goes by, I'm getting a little bit better at it."
Manager Robin Ventura said that Leesman could get another start over the season's final two weeks, after making his Major League debut on Aug. 9 against the Twins in that particular role. Leesman exudes confidence in either situation, even after dealing with a Thursday outing where he faced seven batters, didn't retire any of them and allowed seven earned runs in a 14-3 loss to the Indians.
"For whatever reason, it didn't happen and that's just how it went that day. A career is a long thing so I'm sure it won't be the last time, and it wasn't the first time," said Leesman, who admitted that he tried to pick too much with his pitches. "Just one of those crazy nights that I'm moving on from. Go get them next time."
Scott Merkin is a reporter for MLB.com. Read his blog, Merk's Works, and follow him on Twitter @scottmerkin. This story was not subject to the approval of Major League Baseball or its clubs.