Gardy evaluating Presley's defensive prowess
Gardy evaluating Presley's defensive prowess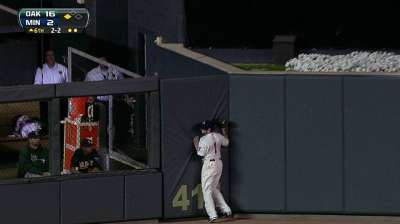 MINNEAPOLIS -- Alex Presley has taken over as the everyday center fielder since the Twins acquired him in the trade that sent Justin Morneau to the Pirates, which has given Twins manager Ron Gardenhire a chance to evaluate his defense in center.
Presley made his 13th start in center field for the Twins against the Rays on Saturday, after making 80 starts in center for Pittsburgh's Triple-A affiliate. Gardenhire said Presley has fared all right, but he wants to see more of him in center before he makes a full evaluation.
"It's pretty decent," Gardenhire said. "I haven't seen enough. I want to see more. I want to see his jumps and how he moves. He's new to this league, so he doesn't know the hitters, so there's times where we'll be playing step-pull with a right-hander, but he's on the first-base side. So just little things."
Presley hasn't made any spectacular defensive plays so far, and he misread a ball that ended up as a two-run triple for the A's Yoenis Cespedes on Thursday. So Gardenhire wants to see him make a few tough plays before he can make a definitive call on Presley's defensive prowess.
"It's all about watching him play," Gardenhire said. "He can hit, and he can catch balls you're supposed to catch, but let's see if he can make the plays the above-average guys can catch."
Rhett Bollinger is a reporter for MLB.com. Read his blog, Bollinger Beat, and follow him on Twitter @RhettBollinger. This story was not subject to the approval of Major League Baseball or its clubs.