Gyorko knows selectivity will bump up walk total
Gyorko knows selectivity will bump up walk total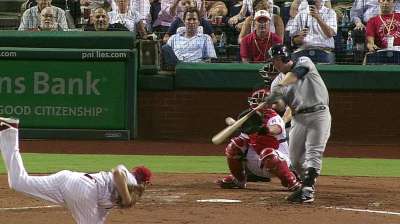 ATLANTA -- Going into Tuesday's game against the Phillies, Jedd Gyorko had gone 112 consecutive plate appearances without a walk.
So, sure enough, what did Gyorko do in his first plate appearance against Cliff Lee? He walked, naturally. And then he did it again in Thursday's loss to the Phillies.
Truth be told, Gyorko would like to walk more -- he has 24 this season in 455 plate appearances -- but to do so, the Padres rookie second baseman knows he needs to cut down on swinging at pitches outside the strike zone.
"I've been swinging at some pitches out of the zone, that's not a secret," Gyorko said. "I know I need to be more in the zone. I've gone through stretches where I've been seeing the ball well, which means I'm swinging earlier in the count, putting the ball in play. That leads to not as many walks."
Expanding the strike zone has gotten Gyorko in trouble at times, as he's struck out 109 times in 2013. Many of those strikeouts have come since he returned from the disabled list July 12.
Gyorko missed 30 games with a right groin strain, bringing to a halt a strong start, one that saw him hit .280 before the injury. Since returning, Gyorko's hitting .202 with four walks in 200 plate appearances. He does have 10 of his 18 home runs in that stretch, but also 53 strikeouts.
Gyorko has a good walk history in the Minor Leagues -- 10.9 percent in 2011 and 10.1 percent in '12. Currently, that walk percentage is 5.3. Does he think it will get better over time?
"I guess it's to be determined," he said. "Walks are an important part of the game. I've got to make sure I stay in the zone. I've got to take that walk if it's available. I think my approach is getting better. It's still a work in progress."
Corey Brock is a reporter for MLB.com. Keep track of @FollowThePadres on Twitter. This story was not subject to the approval of Major League Baseball or its clubs.