D-backs' rout puts Miley alongside Unit
D-backs' rout puts Miley alongside Unit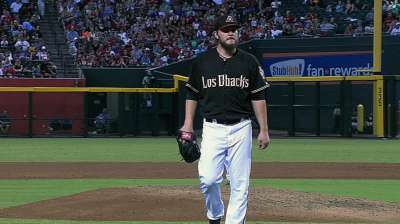 PHOENIX -- After snapping out of a 2-for-17 slump on Friday by reaching base all five times he stepped to the plate, Miguel Montero credited the success to shortening his swing and simplifying his approach.
But when asked Saturday afternoon if he thought his struggles were behind him, Montero didn't want to get too far ahead of himself. The 30-year-old catcher needed to see if he could duplicate the success once over.
Well, after his followup performance in Saturday night's 9-2 win over the Rockies, Montero can check that item off his to-do list.
While going 3-for-5 with two runs scored, Montero helped the D-backs pummel the Rockies as Wade Miley joined Randy Johnson as the only lefties in franchise history to record consecutive seasons with at least 10 wins.
With the victory, the D-backs ensured that they won't be eliminated from the National League West race before the first-place Dodgers come to town on Monday.
Once Saturday's game concluded, Montero was again questioned about his quick offensive turnaround, this time when a reporter asked if this sort of stretch has been a long time coming.
"It wasn't that long, it was only six months," Montero said, smiling. "It's tough going through a season like this, but I never got down on myself, I always stayed positive about it and I learned from it."
Montero started his night by reaching base three straight times, leaving him one successful plate appearance shy of tying the franchise record of reaching base in nine straight. That hope ended when he struck out in the seventh. His big night, however, still raised his batting average to .245, the highest it has been since April 16.
"It's never too late to make adjustments," Montero said. "Hopefully I can finish the season strong so it can carry over to next year."
With the D-backs tallying 16 hits Saturday, of course Montero wasn't the only one who got in on the offensive fun. Aaron Hill also collected three hits, one being a solo blast into the left-field bleachers, while Matt Davidson went 2-for-3 with a walk and a run scored.
"We haven't had that in a while, it was a complete team win," D-backs manager Kirk Gibson said. "Wade pitched well, defense played well and we got contributions throughout the lineup. Just a really good night."
After their first three batters of the game struck out, the D-backs rallied for a two-spot off Rockies starter Roy Oswalt in the second inning, thanks to consecutive doubles from Davidson and Gerardo Parra, who drove in both runs on a long fly ball to center field.
Arizona got Oswalt in trouble again in the fifth, but after knocking him out of the game with the bases loaded and two outs, Martin Prado was unable to do any damage off Rob Scahill, popping out to second and keeping the score 2-0.
Following an easy inning for Miley, the D-backs gave their pitcher some extra breathing room in the sixth as a trio of doubles off the bats of Montero, Parra and Miley plated two runs.
Miley, who faced just three batters over the minimum while holding the Rockies scoreless over the first six innings, appeared to run out of gas in the seventh, giving up three consecutive hits and two runs with one out in the inning before the D-backs went to the bullpen. Josh Collmenter stepped in with a runner on first base and retired the next two Rockies to send Miley on his way to his first win since Aug. 6, a span of six outings.
"It's awesome to finally get that win, but it was a good team win," Miley said. "For me, it was just location and they were swinging early and putting the ball in play. The defense made the plays tonight."
As for joining some rarefied air alongside the Big Unit, Miley was predictably humbled by the company, but downplayed the meaning of it as he tries to stay focused on the rest of the season.
"It's awesome to be mentioned with Randy Johnson, but I've still got three more starts," Miley said. "There is work to do."
Tyler Emerick is an associate reporter for MLB.com. This story was not subject to the approval of Major League Baseball or its clubs.