Wild Card hopes take hit with loss to Phillies
Wild Card hopes take hit with loss to Phillies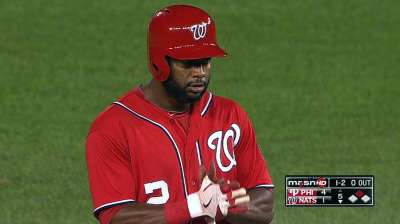 WASHINGTON -- The Nationals were in all likelihood not going to win each of their final 15 games. There would certainly be a bump in the road, a loss that had to be overcome in order to keep their last-gasp playoff push alive.
All that, of course, does not make Saturday night's 5-4 loss to the Phillies any easier to stomach. In a quiet clubhouse, the Nationals knew the math.
"We put ourselves in a hole," Ian Desmond said. "And now it's just about playing for pride, and [we'll] see how it ends up."
With their loss and Cincinnati's win earlier in the day, the Nationals fell to 5 1/2 games out of the second Wild Card spot with 14 games remaining. Washington's already slim chances of returning to the playoffs grew even more slim.
"To see this one loss feels like a big blow to the stomach," starter Gio Gonzalez said. "We're not counting ourselves out. We still have a chance."
Denard Span was asked if he still thought the team could reach the postseason.
"Why not? We've come this far," he said. "Nobody expected us to be where we are now, two weeks ago. So, we just got to keep battling. We're playing good baseball. We can't get too down on ourselves."
Saturday night's loss was a collection of several missed chances, though some were more memorable than others. A called third strike on Wilson Ramos to end the seventh. A rare baserunning mistake by Desmond in the third. A two-seam fastball from Gonzalez that landed just past the outstretched arm of Jayson Werth in right field.
On top of all of that, the Nationals went 2-for-16 with runners in scoring position.
"We had our opportunities," manager Davey Johnson said. "We just didn't capitalize."
Fresh off his one-hitter against the Mets, Gonzalez was solid, but not particularly sharp against the Phillies. He allowed four earned runs on nine hits and walked two batters over six innings.
The left-hander was largely in control until the fifth inning. After John Mayberry tied the game with a solo home run, Gonzalez surrendered two singles and a walk to load the bases. Carlos Ruiz cleared them with his second double of the game to give the Phillies a 4-1 advantage.
"As a pitcher, it is a tough pill to swallow when you want to go out there and do your best, especially for the guys the way they're swinging the bat," Gonzalez said. "To give up those runs makes a huge difference. That could have changed the whole game."
Ian Krol replaced Gonzalez to start the seventh and had a brief outing that he would rather forget. After a leadoff double, wild pitch and an RBI single by Chase Utley, Krol quickly exited with the Nationals trailing, 5-1.
Washington began to rally in the seventh, when Scott Hairston, Ryan Zimmerman and Span hit consecutive singles to load the bases with no outs. But Werth hit a chopper to third baseman Cody Asche, who threw home to prevent a run from scoring. Desmond salvaged one run with a sacrifice fly in the next at-bat.
Bryce Harper stepped to the plate with runners on the corners and hit a flare to no-man's land in right-center field to score two thanks to an error by center fielder Cesar Hernandez. Harper slid headfirst into second base and stole third, setting the stage for Ramos, who took a called strike and fouled off four pitches.
Phillies reliever B.J. Rosenberg threw a looping slider. Ramos leaned back in the batter's box and froze. He thought the ball was low and inside. The 33,972 fans at Nationals Park thought it was low and inside. Home-plate umpire Jim Joyce disagreed.
"Yeah, I mean, he knew he missed [the call]," Johnson said. "But that's part of baseball. We had a lot of chances and had the right guys up. We battled back."
The Nationals kept battling in the bottom of the ninth, when Zimmerman hit a leadoff double off Jonathan Papelbon that rattled off the left-field wall. However, Werth and Desmond both flied out on the first pitch, and after an intentional walk to Harper, Ramos grounded out to short to end the game.
Span extended his hitting streak to 25 games with a first-inning single, one of his three hits in the game. Span also stole three bases.
Tom Schad is an associate reporter for MLB.com. This story was not subject to the approval of Major League Baseball or its clubs.