Phils ice red-hot Nats to even series in DC
Phils ice red-hot Nats to even series in DC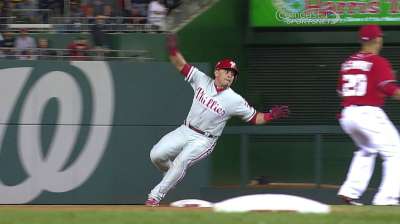 WASHINGTON -- What the Phillies had known for a while became official on Saturday afternoon, when mathematical elimination from playoff contention arrived, thanks to the Reds' win over the Brewers.
Still, the Phillies played a game on Saturday night at Nationals Park, where a division rival was in desperate need of a victory in its quest to avoid the same fate. Throw in professional pride and players battling for jobs next season, and there was plenty driving Philadelphia as it pulled out a 5-4 victory over the Nationals.
"We're trying to finish strong," said catcher Carlos Ruiz, who contributed a go-ahead three-run double. "We know we don't have a shot to go to the playoffs, but we want to play real hard. We want to win. We want to finish strong. It doesn't matter what team you play, you have to play good baseball. So far, we've done a great job and hopefully we can finish that way."
The Phillies won for only the fifth time in their past 23 road contests and ended a five-game losing skid in Washington. By snapping the Nats' seven-game winning streak, Philadelphia pushed them to 5 1/2 games behind the Reds for the second National League Wild Card berth.
"I think we're playing our own game, no matter who we're playing," said starter Cole Hamels, who threw six solid innings. "We have guys that are playing for positions next year and ultimately we're trying to win a ballgame no matter what the opponent is and no matter what they're going toward."
There won't be any postseason games for these Phillies, but the late innings brought a sort of postseason atmosphere, as the Nationals rallied from a 5-1 deficit. They knocked out Hamels in the seventh, scoring three runs and moving the potential tying run 90 feet away before the Phillies' bullpen eventually turned them back.
Washington put that tying run back on base in both the eighth and ninth, but interim manager Ryne Sandberg saw his relief corps hold. He took that as a significant positive as his club builds toward next season.
"From the seventh on, it was high-pressure situations for everyone on the field -- the defense, the pitchers," Sandberg said. "You can feel that with the atmosphere, with the crowd and where the Nationals are right now. You can feel that on the field. So, that's all good. Meaningful games within the division, to see the performances and guys rise to the occasion, throw strikes, make them earn it, that's all good stuff."
It was a narrow escape for the Phillies after Ryan Zimmerman led off the ninth inning with a double off Jonathan Papelbon. Two outs later, Sandberg made a big decision. He chose to issue an intentional walk to Bryce Harper, who had two hits, including an RBI bloop single in the seventh that combined with an error to bring home two runs. Instead, Papelbon faced the right-handed Wilson Ramos -- "the better matchup," in Sandberg's opinion.
Ramos smashed a shot toward the middle. Shortstop Jimmy Rollins snared the one-hopper to his left and up near his head, making the play at first to end the game and give Papelbon his 27th save.
"J-Roll made a very nice read on that, retreating back," Sandberg said. "That was an in-between hop that he made a little bit longer. Heck of a play right there, it really was."
Not too long before, it didn't seem there would be much drama, as Hamels (8-13) cruised toward another strong outing. The left-hander came in with a 2.18 ERA over his past 13 starts, and after giving up a run in the first inning, held the Nationals scoreless through the sixth.
But Sandberg made another tough call in the seventh, which Hamels entered with a 5-1 lead only to give up three straight singles to load the bases. Hamels had what Sandberg called "a little bit of flu symptoms" on Friday, and Sandberg felt he was running out of gas. He called for righty Justin De Fratus.
"You do want to slow it down and get through it, but you've got fresh arms in the bullpen that have done really well, and Ryno has to make that decision," Hamels said. "I'm all for whatever they do in trying to win the ballgame, no matter what."
Sandberg said a big part of his decision was his confidence in a bullpen that now has given up one run in its past 18 1/3 innings.
De Fratus got Jayson Werth to hit into a forceout at home before Ian Desmond managed a sacrifice fly to make it 5-2. Sandberg then went to lefty Cesar Jimenez, who gave up the single to Harper. When Cesar Hernandez couldn't pick up the ball, Werth scored all the way from first and Harper took second.
With B.J. Rosenberg in the game, Harper nearly got picked off, but hustled to third as the potential tying run. The Phillies escaped when Rosenberg caught Ramos looking with a breaking ball that appeared to be out of the zone.
The Nats got a runner to second with one out in the eighth, but Rosenberg and lefty Jake Diekman combined to get out of the inning.
"I think now they feel relaxed. They don't have the pressure now," Ruiz said of the Phillies relievers. "They go to the mound and be aggressive. That's what I try to say to them. Throw a first-pitch strike and work from there. So far, they've done a good job, and it's fun to watch those guys finish games that way."
The Phillies seemed to grab control in the fifth, when John Mayberry lined a high fastball over the left-field wall for a solo shot off Gio Gonzalez (10-7). Hamels and Hernandez followed with singles, and Chase Utley walked one out later to load the bases.
Ruiz then attacked a first-pitch fastball and sliced a deep line drive to right field that cleared Werth's head to empty the bases. Ruiz improved to a Major League-best 14-for-24 (.583) with runners in scoring position since Aug. 8, with 19 RBIs.
"He's the right guy up there with men on base for us, for a month," Sandberg said.
The Phillies extended their lead on Utley's RBI single in the seventh, but then got some bad luck when Cody Asche's shot into the left-center gap hopped up for a ground-rule double and kept Utley at third. Freddy Galvis then lined out to end the inning.
Andrew Simon is a reporter for MLB.com. Follow him on Twitter @HitTheCutoff. This story was not subject to the approval of Major League Baseball or its clubs.