Ubaldo keeps pedal down on Tribe's pursuit
Ubaldo keeps pedal down on Tribe's pursuit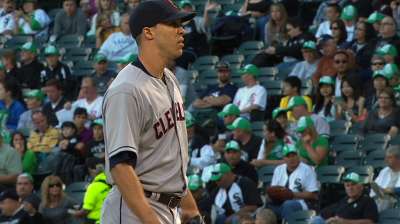 CHICAGO -- Ubaldo Jimenez continued his second half dominance on Saturday night and the Indians continued their push for the postseason.
Jimenez allowed one run on eight hits over a season-high 8 1/3 innings and both Asdrubal Cabrera and Lonnie Chisenhall homered in a five-run fourth inning to lift the Tribe to an 8-1 victory over the White Sox at U.S. Cellular Field.
With the win, Cleveland remained 1 1/2 games behind Texas, which lost to Oakland, and Tampa Bay, which beat Minnesota, for the American League Wild Cards.
Jimenez walked one and struck out eight in his longest outing since June 1, 2011, against the Dodgers (complete game), to register his sixth quality start in his last seven outings.
"I was able to establish the fastball down, and even when they got runners on base, I threw everything down and I got some ground balls," Jimenez said. "Those saved me a lot of pitches."
The right-hander -- who has a 1.83 ERA since the All-Star break after posting a 4.56 mark in the first half -- has allowed one earned run over 21 1/3 innings in three September starts. He has also yielded two runs or fewer in 18 of his last 25 starts.
"[Jimenez] threw the ball down in the zone," said Indians manager Terry Francona. "He was crisp. Even when they squared balls up, because he was down in the zone he got a couple of lineouts in the second. But he worked aggressive from pitch one until we got him out. And I have no doubt he could have finished it. I just didn't want him to have to dig deep."
"He was good," White Sox manager Robin Ventura said of Jimenez. "That was as good as I have seen him in the last two years. He had everything going. A lot of offspeed stuff, his ball was moving all over. It seemed like you couldn't sit on any pitch in any count."
Jimenez gave the Indians' bullpen a much-needed rest after seven relievers combined for 5 1/3 innings in Friday's 3-1 victory.
Until the ninth inning -- when he gave up back-to-back singles before being taken out of the game -- Chicago's only real threat against Jimenez came in the third, when the first two White Sox batters reached on singles. But Jimenez was able to retire the side after that, striking out two and getting a flyout to center.
"He just kind of did what he's been doing," catcher Yan Gomes said. "In a little trouble he's able to kind of turn it on to another level and be able to pound the zone with everything he's got."
"In the third inning, my mechanics were a little bit off," Jimenez said. "I started falling behind in the count, but I was able to get it back together."
As for his stellar second half so far, Jimenez said his key has been staying healthy and maintaining sound mechanics.
"I think the main thing is that I'm feeling 100 percent healthy," he said. "I got my mechanics back together and I've been able to establish my fastball down in the strike zone and I throw all my breaking balls off the fastball."
With one on and one out in the fourth, Cabrera drilled a 1-0 fastball from White Sox starter Andre Rienzo into the seats in right-center to give the Indians a 2-0 lead. Following a Jason Giambi walk and a Gomes single, Chisenhall hit a three-run blast to right-center to stake Jimenez to a five-run advantage.
The Tribe tacked on two more in the sixth on a two-out, two-run single by Carlos Santana. Santana has a nine-game hitting streak during which he is hitting .387 (12-for-31) with a home run and seven RBIs.
Ryan Raburn plated Jose Ramirez, who tripled, with a sacrifice fly in the ninth for Cleveland's eighth run.
The Tribe has won a franchise-record 11 games in a row against the White Sox, and 14 of 16 games overall against Chicago this season.
The Indians have also won eight of their last 11 games as they continue to chase their first playoff berth since 2007.
Jimenez said that he loves pitching when the stakes are high, and with a race as tight as the one the Tribe finds itself in, each and every contest is important.
"It's fun because everything counts right now," he said. "You have to bring your A game to the table every single day. It doesn't matter who you're facing. You have to go against them with everything you have.
"You never know what game is going to make the difference."
Manny Randhawa is an associate reporter for MLB.com. This story was not subject to the approval of Major League Baseball or its clubs.