Still in pain, Wandy shut down by Pirates
Still in pain, Wandy shut down by Pirates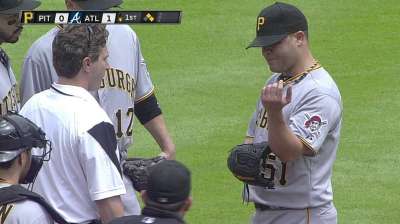 PITTSBURGH -- Pirates lefty Wandy Rodriguez, who has missed more than three months with left forearm tightness and arthritis of the left elbow, is going to be shut down for the rest of the season.
It was thought that Rodriguez took a step toward returning from the disabled list when he pitched a simulated game on Thursday. But he was still pitching with discomfort, which prompted the decision to shut him down.
"We had Wandy in here with GM Neal Huntington, myself, trainer Todd Tomczyk and [Latin American strength and conditioning coordinator] Kiyoshi Momose just to make sure we didn't lose anything in translation," Pirates manager Clint Hurdle said. "It was a hard meeting, and we're going to shut Wandy down for his benefit and for our benefit. He's put so much into this, he's worked so very hard to try and get into a position to pitch again, because of the want to help the team, but he continues to pitch with pain and discomfort, and we're going to turn our focus to 2014 and let him heal."
"I don't feel a hundred percent and pain-free," Rodriguez said. "I don't think I can go out there and give my best to the team."
The Pirates consulted with noted orthopedic surgeon Dr. James Andrews.
"Dr. Andrews recommended a cortisone injection," Rodriguez explained. "But it was up to me and it was my decision. I won't take the injection because cortisone is only to kill the pain, but not heal the injury."
Rodriguez was asked about his options for treatment.
"I'm going to try the platelet-rich plasma injection," Rodriguez said. "I'll see how that goes."
Rodriguez already received a platelet-rich plasma injection on July 1.
In 12 starts for the Pirates this season, Rodriguez posted a 6-4 record with a 3.59 ERA.
The 34-year-old can become a free agent at the end of the season, but he also holds a $13 million player option to return in 2014.
George Von Benko is a contributor to MLB.com. This story was not subject to the approval of Major League Baseball or its clubs.