Tigers aren't inclined for pitchouts vs. KC
Tigers aren't inclined for pitchouts vs. KC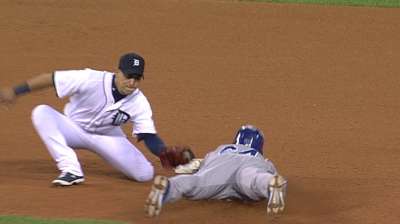 DETROIT -- Justin Verlander and Alex Avila were able to hold the Royals' running game in check in Friday night's 6-3 win through a pickoff and a caught stealing.
Although a pitchout is always an option, manager Jim Leyland sees a better alternative against the Royals, who lead the Majors with 141 stolen bases.
"Normally, if you think about it, the guy doesn't swing at the pitch that he runs on because he's giving him a chance to steal a base," Leyland said. "If you throw a fastball, whether it's a strike or ball, you should have a chance to throw the guy out. So why waste a pitchout if you know the guy is going to take the pitch?"
Leyland said the Royals take more pitches when a runner is attempting to steal a base than other teams. While that doesn't mean pitching out with a runner on first base isn't an option for the Tigers, a pitchout isn't guaranteed to catch the runner either.
"I think we have pitched out a little bit more recently," Leyland said. "We had a guy the other day, we just didn't execute, we dropped the ball. But that's a part of the game, I have no problem with that."
Bobby Nightengale is an associate reporter for MLB.com. This story was not subject to the approval of Major League Baseball or its clubs.