Bullpen matching up for late-inning success
Bullpen matching up for late-inning success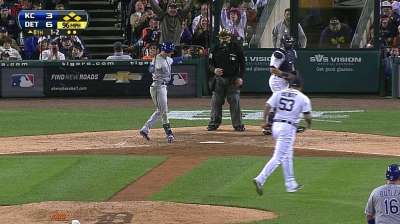 DETROIT -- The back end of the Tigers' bullpen thrived in its share of pressure situations in Friday night's 6-3 win over the Royals, from Drew Smyly getting a strikeout with a runner on third in the seventh inning to Joaquin Benoit striking out David Lough with the bases loaded in the eighth.
With the addition of Jose Veras before the Trade Deadline, it's added some flexibility in late innings for manager Jim Leyland to match lefty against lefty splits favoring the pitcher.
"That changes things when you don't have to ask a guy to get three outs," Leyland said. "You can ask a guy to get two outs and then bring somebody else in to get one out. People don't realize, unless you have a dominant end of it, you don't realize how important that is."
In the second half, Smyly, Veras and Benoit have inherited 23 runners, allowing only four runs.
"I think they've done pretty good," Leyland said. "I'm pretty happy with them. I think in fact a lot of people probably shortchanged our bullpen a little bit."
Bobby Nightengale is an associate reporter for MLB.com. This story was not subject to the approval of Major League Baseball or its clubs.