Tigers aren't safe at home in tight loss to KC
Tigers aren't safe at home in tight loss to KC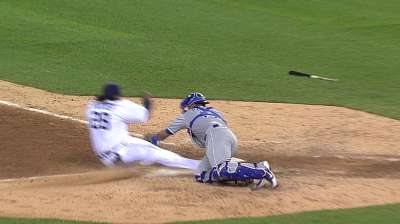 DETROIT -- The Tigers and Royals have played close games against each other all season long. None was closer than Prince Fielder being tagged out as he slid into home plate for the final out in a 1-0 loss on Saturday at Comerica Park.
With two outs and Fielder on first base after a leadoff walk, Omar Infante lined a double to left field off Royals closer Greg Holland. But Alcides Escobar caught the relay from Alex Gordon and fired a strike to the plate to nail Fielder for the final out.
"They executed that play to perfection and the only thing was when I saw the throw come in, I thought Perez might get a bad hop, but he made a terrific pick on that ball and the tag," Tigers manager Jim Leyland said. "You have to tip your cap to them, they made a big defensive play when they had to."
Fielder was rounding third base before Escobar caught the relay and was more than a third of the way down the line by the time Escobar could make his throw. But he fired to the left side of the line and Perez was able to tag a sliding Fielder.
"I didn't see the ball for like two seconds," Perez said. "I stayed in front of home plate and the ball was behind him so I had to go to one side and, for one second, I didn't see the ball so I just guessed that the ball was going to be right there."
Leyland said there's no question third-base coach Tom Brookens made the right decision to send Fielder, especially when facing Holland, who has only given up two runs since the end of June.
"This was a huge win for us," Royals manager Ned Yost said. "We had to have this win tonight. We haven't had a ballgame all year where we had to win. Tonight was it. We had to win this ballgame. And the manner and fashion in which we won it was pretty exciting."
The strong defensive play was a fitting end for a pitcher's duel that saw Doug Fister and Royals starter Ervin Santana baffle opposing hitters.
Fister allowed one run on eight hits in 7 2/3 innings while walking four and striking out six. Santana went 6 2/3 scoreless innings, allowing five hits and one walk with five strikeouts.
With the loss and the Indians' 8-1 win over the White Sox, the Tigers' lead in the American League Central standing dropped to five games and their magic number for clinching their third straight division title remains at 10.
The Royals scored their run as Gordon singled on the first pitch from Fister. He scored two batters later on Eric Hosmer's triple off of the wall in right-center.
"There were a few I didn't execute, I got the ball up and they hit them," Fister said. "Whether it was the Hosmer ball off the wall or the first ball in the corner. I really have got to come out and be a little better out of the gates and shut them down."
Fister allowed one hit over the next three innings and was able to work himself out of jams in the fifth and sixth innings. In the fifth, the Royals loaded the bases with two outs through two singles and a walk before a flyout to center. In the sixth, Fister gave up back-to-back two-out singles, but ended the threat by striking out Lorenzo Cain.
"After the first inning, Fister was terrific because he made an adjustment," Leyland said. "He started mixing in other pitches because you could see that their game plan was to charge first pitch. He was trying to get ahead, and they were looking to whack that first one."
The Tigers had leadoff singles in the second, fourth and sixth innings against Santana, but weren't able to push any runner further than second base.
"[Santana was] locating his fastball and he has like an invisible slider," Alex Avila said. "He throws it real hard, it's tough to pick up and he gets a lot of swings and misses with it."
In the seventh, Victor Martinez hit a one-out single to left, and moved to second on a single to right field by Andy Dirks. Both players moved up on a groundout, before left-hander Will Smith relieved Santana. Nick Castellanos pinch-hit for Avila, but flied out to center.
In the ninth, Holland retired Martinez on a flyout and struck out Dirks before Infante's screamer to left set up a dramatic finish.
"Against [Holland] you're not going to get much," Leyland said. "It was one of those great plays to end the game. It just wasn't a play for us."
Bobby Nightengale is an associate reporter for MLB.com. This story was not subject to the approval of Major League Baseball or its clubs.