Tillman sharp over eight, but O's fall on mistake pitch
Tillman sharp over eight, but O's fall on mistake pitch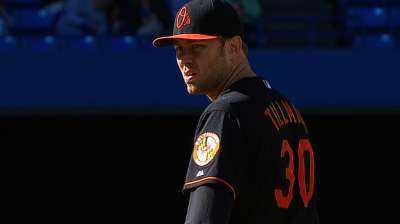 TORONTO -- On the heels of one of their most memorable wins, the Orioles couldn't keep things going, as Baltimore's postseason hopes -- in lieu of a hot stretch -- are merely hanging on as they continue to play .500 baseball.
The Orioles, who watched Chris Davis lift them to a 5-3 win with his 50th homer of the year Friday night, continued to put on a maddeningly erratic display on offense, going 2-for-11 with runners in scoring position Saturday and falling just short in a 4-3 loss courtesy of Colby Rasmus' two-run homer off Chris Tillman. The defeat, to a last-place Blue Jays club in front of 29,942 at Rogers Centre, is the Orioles' fourth in their last five games and costs them a chance to make up ground in the American League Wild Card race.
Baltimore, which entered the day 2 1/2 games back of Tampa Bay, is 25-27 since the All-Star Break with 14 games remaining.
"We understand that every game right now is important," shortstop J.J. Hardy said of an Orioles team that is 13-18 starting with a three-game sweep by Arizona last month. "I don't think we're putting extra pressure on ourselves, but we know we need to win as many as we can. In a way, our backs are against the wall. We've got to fight, do what we can, do the little things. Everything is going to be magnified from here on out and we just need to play good baseball."
The Orioles have struggled to do that lately, particularly on the offensive side of things. Coming off an eight-game homestand in which they hit .206 (13-for-63) with runners in scoring position, the problem resurfaced Saturday as the Orioles left a runner on third base four times and were held scoreless after the fourth inning.
"That's how you win close games," catcher Matt Wieters said of a club that went 29-9 in one-run games last year and dropped to 16-28 with Saturday's loss. "You win them with good pitching, good defense and timely hits, and we got a couple of timely hits but not enough today."
Down a run, Nick Markakis worked a two-out walk in the eighth to chase Aaron Loup in favor of Neil Wagner, and Hardy kept things alive with a single to right field to put Markakis on third. But Wagner got Wieters to strike out to end the threat. The Orioles also squandered Adam Jones' leadoff double in the sixth and a one-out error by third baseman Brett Lawrie that put Hardy on as well, with Wieters striking out and Danny Valencia grounding out.
Wieters did come through in the fourth, delivering a one-out single off starter Esmil Rogers into center field to score Markakis. But that's all the Orioles, who worked a pair of one-out walks, would get as Rogers struck out Valencia and Brian Roberts.
"They've done it a lot more than they haven't, but it gets magnified this time of year," manager Buck Showalter said of his team's offensive woes. "I have a lot of respect for what these guys do for a living and it's a lot harder than it may look from an ivory tower.
"I don't look at what-if and what was the one [at-bat that cost us]. We don't live in that world. I know everybody has to look for a hook and rightfully so, you have to lament about something like that. I lament on the great things we did. You got to tip your hat to them, [the Blue Jays] have one of the best bullpens in baseball. They've been pretty much dominant this year. So, just because you are getting an opportunity doesn't mean you are cashing in. I don't look at it that way. But I understand why people do."
The failed opportunities were enough to sink Tillman, who pitched well but was burned by a pair of walks that bookended his eight-inning outing.
The right-hander -- who has established himself as the ace of the staff -- ran into some early trouble, allowing a leadoff double from Jose Reyes and issuing a two-out walk to Adam Lind to keep the inning alive. Moises Sierra made him pay, driving a ball into left-center to put Toronto up an early pair of runs.
Tillman settled in after that, facing just one batter over the minimum until the seventh inning. In that frame, a leadoff walk to Sierra set up Rasmus' homer to give Toronto back the lead.
"He was working me with heaters," Rasmus said. "Well, first at-bat he threw me a curveball and I hit it first pitch, and second at-bat he threw me a couple of heaters. And in that at-bat, he led me off with a changeup."
Tillman retired the next three straight and had a 1-2-3 eighth after that, scattering six hits and striking out four overall. But it wasn't enough, as the righty took the loss in the first complete game of his career.
"I got to be better there," Tillman said. "Big mistakes early and late. I got to be better in those situations."
One of the Orioles' two hits in timely situations came from Davis, who put his club on the board with an RBI double in the first. Davis drove in Manny Machado, who reached the 50-double mark with a one-out hit off Rogers and took the Blue Jays starter deep in his next at-bat for a third-inning solo homer to tie the game at 2.
But it wasn't enough, and the Orioles head into Sunday's series finale desperately needing a win to stay on track.
"The good news is we've had urgency all year," Showalter said. "So, this isn't some different dial we have to go to."
Brittany Ghiroli is a reporter for MLB.com. Read her blog, Britt's Bird Watch, and follow her on Twitter @britt_ghiroli. This story was not subject to the approval of Major League Baseball or its clubs.