Rasmus' clutch homer lifts Blue Jays, knots series
Rasmus' clutch homer lifts Blue Jays, knots series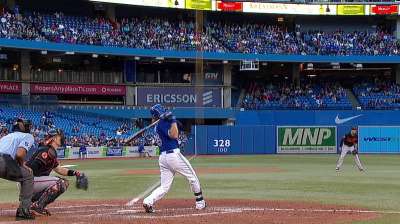 TORONTO -- The Blue Jays have long since been realistically eliminated from the playoffs, but with just over two weeks remaining in the season, they are in a strong position to determine which teams will still be playing in October.
Toronto will play all of its remaining games against the American League East and unfortunately for the competition, it also comes at a time when the Blue Jays' lineup is back to being almost at full strength.
The now healthy Colby Rasmus made his impact felt by homering for the second consecutive game, while right-hander Esmil Rogers pitched six strong innings as the Blue Jays played spoiler with a 4-3 win over the Wild-Card contending Orioles on Saturday afternoon at Rogers Centre.
"It's good he's back, he's a home run threat," Blue Jays manager John Gibbons said of Rasmus after the win. "Last night, and of course tonight, that's a big one to put us back in the lead. He looks good. That doesn't always happen when you're out for that long and you don't get a whole lot of work in. You talk to him and he feels good, shows you how powerful the mind is."
Rasmus missed more than a month with a strained oblique muscle before he returned to the Blue Jays' lineup on Friday night. Under normal circumstances, the club would have opted to send him on a rehab assignment before coming back, but in this case it wasn't possible because the Minor League season is already over.
That forced Rasmus to work his way back while remaining with the big league team in Toronto. Rasmus was expected to experience some timing issues at the plate considering he hadn't faced live pitching in such a long time, but so far that hasn't been the case.
Rasmus homered in his second at-bat on Friday night and followed up that performance by hitting what turned out to be the game winner against Baltimore on Saturday. His two-run shot to deep right field came with the Blue Jays trailing, 3-2, against right-hander Chris Tillman.
"I didn't feel like it would take me long, because I got my swing feeling good with Motor," Rasmus said of working with Blue Jays hitting coach Chad Mottola. "I was able to do some things on the field, hitting early, that I think got me pretty much locked in. My mindset coming in was just to pretend I was never gone, I just came right in, get back into my routine of what I've been doing."
The home run by Rasmus -- his 20th -- allowed the Blue Jays to become the first team in the Majors this season with at least five players to hit 20-plus homers on the year. It also enabled Rasmus to reach the 20 home run plateau for the second consecutive season and the third of his career.
Dating back to even before his oblique injury, Rasmus has reached base at least once in all but five of his past 40 games while hitting .338 (51-for-151) over that same span. It has been a breakthrough season and comes at an ideal time, considering Rasmus is set to go through arbitration for the final time this offseason.
Tillman watched Rasmus' home run on Friday night, and even though he made the appropriate adjustments, it didn't have much of an impact on the field. That's what impressed Baltimore's 16-game winner the most about the Blue Jays' athletic center fielder.
"He's a good player, he's well rounded," said Tillman, who allowed all four runs on six hits and two walks. "He homered last night on a fastball in. Tonight it was a changeup. That goes to show you he's got a good game plan right now and is swinging the bat well."
Rogers continued his strong finish to the season by allowing just three runs over six innings of work. He allowed five hits and two walks, while striking out seven and throwing 59 of his 101 pitches for strikes.
The 28-year-old started the year in the bullpen and appeared to hit a wall during late July. He denied it at the time, but fatigue appeared to be a factor and contributed to a series of bad outings on the mound, which ultimately cost him a starting job and marked a transition back into the bullpen.
The second opportunity to start came in early August following a season-ending injury to Josh Johnson, and Rogers has been relatively flawless ever since. He was forced to take a no-decision on Saturday afternoon, but he is 2-0 with a 2.32 ERA over his past five starts.
"I just think about giving the opportunity to win the game, and try to help the team," Rogers said. "I know they are good hitters, but if you make a good pitch, you're going to be better than them. The only way you can get out people is when you make good pitches."
The Blue Jays will have a chance to steal a much-needed series away from the Orioles with a victory on Sunday afternoon. Baltimore, at least temporarily, moved to three games back of Tampa Bay for the second Wild Card spot after the loss and can ill afford to leave Toronto on a losing note considering how much is at stake.
Gregor Chisholm is a reporter for MLB.com. Read his blog, North of the Border, and follow him on Twitter @gregorMLB. This story was not subject to the approval of Major League Baseball or its clubs.