Erlin outdueled by Padres nemesis Medlen
Erlin outdueled by Padres nemesis Medlen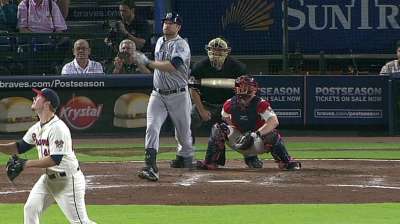 ATLANTA - It's not as if the Padres have seen a lot of Kris Medlen, at least since he's become a starting pitcher for the Braves.
But clearly they've seen enough of him.
Medlen continued his mastery over the Padres by tossing 7 1/3 scoreless innings Saturday night to lead the Braves to a 2-1 victory before a crowd of 40,153.
In three starts against the Padres in the last 13 months, all that Medlen (14-12) has done is pitch 24 1/3 scoreless innings. He's 3-0 in those starts, too.
"He knows how to pitch," said Padres manager Bud Black. "His fastball had action in the hitting area, he has a tremendous changeup. He's their guy. They're headed to the playoffs and I suspect that he will be their first-game pitcher."
Medlen allowed four hits with two walks and five strikeouts for the Braves (89-59). The Padres did not score a run until the ninth when Chase Headley, hitting left-handed, got all of a 98-mph fastball from Craig Kimbrel, sending the ball into the right-field seats.
For Headley, it was hit 12th home run of the season and his second in as many nights. This marked the second time this month that he has homered in consecutive games.
"There's been some better swings, closer together than we had earlier in the year," Headley said. "… Some of that is confidence; some of it is putting better at-bats together."
Speaking of confidence, Padres rookie Robbie Erlin (2-3) continues to build his since being put in the rotation late last month.
Erlin, a left-hander, allowed two runs on eight hits in six innings with one walk and three strikeouts. He has a 2.60 ERA in his last three starts.
"I liked the fact that his changeup came into play," Black said. "Every game is a learning experience for him. It's natural for him to pitch at the top of the zone. Now, he's got to be able to keep the ball down. There's a lot to like about Robbie."
Erlin ran into trouble in the fourth when he allowed consecutive singles to Justin Upton and Freddie Freeman. But it looked like Erlin might wiggle out of the jam when he retired the next two hitters -- Evan Gattis and Brian McCann.
But Chris Johnson bounced a 1-0 curveball into left field for a single to give the Braves a 1-0 lead.
"In the later innings, [my pitch count] crept up, resulting in a home run and base hits," Erlin said. "But I'm feeling more confident with my offspeed pitches."
The Padres (67-80) made two fine defensive plays behind Erlin, as Will Venable made a diving catch in center field on Elliot Johnson's ball in the gap in the first.
The Padres dodged a bullet in the fifth when Erlin allowed a two-out single to Johnson, who then stole second base. Upton singled hard to right field, but right fielder Chris Denorfia fielded the ball and threw a strike to Hundley to cut down Johnson at the plate.
Freeman hit a home run to start the sixth off Erlin, his 21st of the season, for a 2-0 lead. The pitch Erlin wanted to throw was a fastball away to Freeman, but it caught too much of the plate.
"It's always tough facing someone you've never seen before. We took some pitches, we worked some walks, and we were able to get some hits together," Freeman said. "Even though we didn't score a lot of runs, we saw enough pitches to keep going. We had some opportunities, but two runs were enough."
But just barely.
Headley started the ninth against Kimbrel with the home run to right. Ronny Cedeno walked and was replaced by pinch-runner Reymond Fuentes, who then stole second base. But Kimbrel, who has a career-high 47 saves, got Nick Hundley to ground out to end the game.
"We were one base hit away from tying that game … against the best closer in the game," Black said.
Corey Brock is a reporter for MLB.com. Keep track of @FollowThePadres on Twitter. This story was not subject to the approval of Major League Baseball or its clubs.