Berkman set to try hitting right-handed again
Berkman set to try hitting right-handed again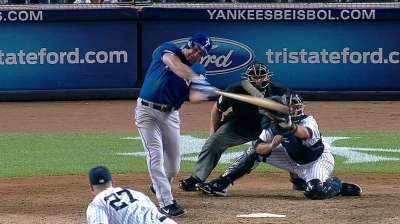 ARLINGTON -- Lance Berkman said he'll try to start hitting from the right side again to see how his hip will respond. The switch-hitter has been strictly used to hit from the left side because his hip would get sore when he tried to hit from the right side.
"I've let it rest now for about a week and a half, and now [I want to] try to crank it back up to see what [I've] got," Berkman said.
The issue has not gone away since he went on the disabled list on July 7 with left hip inflammation. Rangers manager Ron Washington said he would've used Berkman to pinch-hit instead of Robinson Chirinos if he was able to hit from the right side or the A's used right-handed closer Grant Balfour.
"You don't know what kind of impact you're going to have, but I felt physically I could get back out there and at least give them an effort," Berkman said. "To this point, we really haven't had an opportunity to find out exactly how that would go."
Berkman denied an Internet-fueled report which said he has fallen out of favor due to a questionable work ethic and he was caught napping in the clubhouse during a game last week. Washington also dismissed the report and questioned where somebody received the information.
"I don't know anything about that," said Washington.
The rumor supposedly originated on one of the Athletics' broadcasts back to Oakland. But both their radio and television broadcasters said they did not talk about Berkman on Friday night.
T.R. Sullivan is a reporter for MLB.com. Read his blog, Postcards from Elysian Fields, and follow him on Twitter @Sullivan_Ranger. Master Tesfatsion is an associate reporter for MLB.com. This story was not subject to the approval of Major League Baseball or its clubs.