Gomez not frustrated by recent struggles
Gomez not frustrated by recent struggles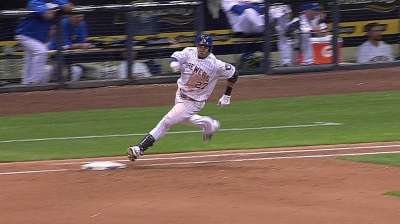 MILWAUKEE -- Because his batting average has fallen more than 40 points and his OPS more than 125 points since the start of June, it would be natural for Brewers center fielder Carlos Gomez to be feeling a bit frustrated as the season grinds to an end.
Gomez insisted that is not the case.
"I don't feel frustrated like people think," he said. "I'm still hitting .280. What's my career high average, .260? I'm still way over. Everything is high. The worst thing we've been through this year is we don't win games, but personally, I'm better in my overall numbers."
He hit a career-best .260 last season with 19 home runs, a total he has matched this season. His 62 RBIs this season eclipse his career-best 59 in 2008. His .336 on-base percentage is 31 points higher than the career high he set last year. Manager Ron Roenicke praised Gomez's improvements, saying "he's learned a lot" in the past two years and produced much more sophisticated at-bats.
Gomez made the National League All-Star team for the first time this season, and next season will enter the three-year, $24 million contract extension he signed in March. Before inking that deal, Gomez was on track to be a free agent this winter.
"I think just signing him up has made a difference in what's happened this year," Roenicke said. "Can you imagine the frustration when you're emotional like he is, and you're trying to have a big year when you're a free agent? I don't think that would be fun for any of us."
Nagging injuries help explain Gomez's production drop. His all-out style in center field produced left shoulder, right elbow and right knee injuries, and he also has dealt with a sore right thumb. Another explanation is more simple -- regression to the mean.
"Is he a .330 hitter?" Roenicke asked rhetorically. "If a guy is a .260 hitter, OK, he may hit .290 one year, but to go to .330, when you look at what leads the league every year, that's a pretty elite group. A guy usually doesn't have a freak year where he hits that high."
But Roenicke sees Gomez maintaining his current output, and Gomez, who drove in five runs Friday for only his third multi-RBI game since the All-Star break, sees even bigger numbers ahead.
"I know I can do better, but we have more years to continue to make progress," he said. "This year, we'll finish with 20-plus home runs, .280 [batting average], 70 or 80 RBIs, and next year I want 90, 100 [RBIs], 30 home runs, stuff like that. All of my statistics go higher."
Adam McCalvy is a reporter for MLB.com. Read his blog, Brew Beat, and follow him on Twitter at @AdamMcCalvy. This story was not subject to the approval of Major League Baseball or its clubs.