Hellweg struggles as powerful Reds best Crew
Hellweg struggles as powerful Reds best Crew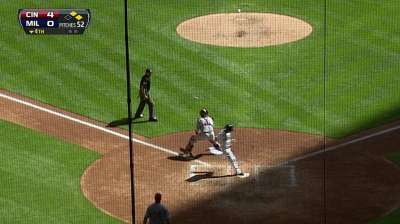 MILWAUKEE -- Someday, Johnny Hellweg will win a game at Miller Park. Perhaps a lot of games. But Saturday was not that day.
The 24-year-old hotshot pitching prospect lost for the third time in as many Miller Park starts, battling wildness for five innings of a 7-3 loss to the Reds on Saturday afternoon.
Hellweg allowed four runs on eight hits, a walk and three hit batsmen, including opposing starter Homer Bailey in the second inning moments before Shin Soo-Choo hit a two-run home run for a 4-0 Reds lead. Hellweg pitched with a Reds runner in scoring position in each of his five innings, and threw 84 pitches along the way.
He fell to 1-4 with an 8.31 ERA overall and 0-3 with a 7.25 ERA in front of the home fans.
"Yeah, there's a little bit of nerves," Hellweg said. "I think it's just getting comfortable. I don't think it's going to come overnight like I want it to. I think I'll have to keep going out there and keep grinding through it.
"I'm definitely confident in myself, but it's about adjusting. It's not coming as quick as I'd like it to, but I feel like it's getting better each time I go out there."
This amounts to an audition for 2014. The Brewers have their top three starting pitchers returning in Kyle Lohse, Yovani Gallardo and Wily Peralta, and Marco Estrada is an option for another spot. But there is certainly room for Hellweg to pitch his way into the team's plans, especially considering his success at Triple-A Nashville, where he was 12-5 with a 3.15 ERA and won Pacific Coast League pitcher of the year honors.
If Brewers starters stay on line, Hellweg's next outing would come Friday against the Cardinals at Miller Park. The Cards own the National League's top offense.
"Right now, he's scheduled to pitch against them," Brewers manager Ron Roenicke said.
"I'm glad he was able to get through the third, fourth and fifth," Roenicke added. "I think it was important for him to do that. But the first two innings, just tough again. His command was all over."
Hellweg plunked Bailey in his left shoulder in the second inning, and hit third baseman Todd Frazier and catcher Ryan Hanigan in the fifth. The wayward pitches were unintentional, but Hellweg said, "That's not going to work."
If the Reds were upset seeing the hit batsmen, "I don't blame them," Roenicke said. "Everybody knows he's not trying to hit anybody, but still, they're not in a position where they can afford to have somebody hit and be out a while. All of them were glancing blows, which I was glad. But I don't want [Hellweg] to have to start thinking he's got to pitch outside, either. His strength is going to be pitching to right-handers inside."
The development process will continue.
"There's obviously a lot of different pressures here that there aren't in the Minor Leagues," Roenicke said. "That's what guys have to overcome. You just hope a guy has enough confidence in what he did this year that he can bring it up here and show you the same thing.
"I know at the beginning of the year, [Hellweg's] walk total was high at Triple-A, but after that, he settled down and his numbers were really good after that. ... He's very hard to read. He's a real calm guy, he doesn't say a lot, and so you really don't know what's going on inside. When I talk to him about it, he seems to be fine. But you get out there, and it's different."
Bailey endured similar issues early in his career, but was sharp on Saturday outside of a three-run Brewers rally in the fourth inning, when Khris Davis delivered a two-run double in his first start in 10 days, Carlos Gomez hit an RBI single and Jeff Bianchi hit a sacrifice fly. Four of the Brewers five hits in Bailey's seven innings came in that frame.
The rally cut Milwaukee's deficit to 4-3, but the Reds pulled away in the late innings. Recently-acquired Brewers reliever Michael Blazek walked Choo in the sixth inning and paid the price when Joey Votto hammered a two-out, two-run home run that struck very near the top of the right-field foul pole.
Brewers officials estimated the blast traveled 470 feet, which would tie for the fourth-longest home run in the 13-year history of Miller Park, only 10 feet shy of Russell Branyan's memorable solo blast against then-Cubs right-hander Greg Maddux in 2004.
Choo added another run in the eighth inning with a sacrifice fly, but the Brewers still showed fight in the bottom of the eighth, when they loaded the bases and forced Reds manager Dusty Baker to call for closer Aroldis Chapman to face pinch-hitter Jonathan Lucroy, who'd belted a walk-off home run when he last faced Chapman on Aug. 16.
Chapman won this battle, getting Lucroy to strike out swinging. Lucroy fell to 1-for-7 lifetime against the lefty closer with six strikeouts.
"I hate striking out with the bases loaded. I don't care who it is on the mound pitching. I hate striking out," said Lucroy, adding it was no excuse that he had sat on the bench all afternoon before that at-bat.
Chapman struck out three more batters in the ninth for his 36th save, and the Reds, despite making a slew of awkward outs on the basepaths throughout the afternoon, ensured they would maintain at least a 4 1/2-game lead over the Nationals in the chase for the NL's second Wild Card slot.
"We're playing some ugly baseball," Baker said. "I'm seeing things I haven't seen in a long time. We're winning, but I'm not real happy because I'm seeing some things that over the course of the year that I haven't had to deal with."
Adam McCalvy is a reporter for MLB.com. Read his blog, Brew Beat, and follow him on Twitter at @AdamMcCalvy. This story was not subject to the approval of Major League Baseball or its clubs.