Choo, Votto power Reds past Brewers to even series
Choo, Votto power Reds past Brewers to even series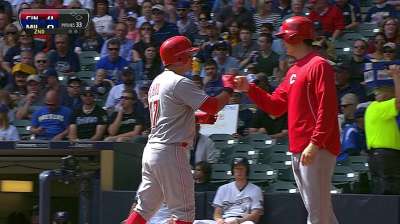 MILWAUKEE -- A win is a win, but when you are in as tight of a postseason race as the Reds are, even the ugliest of wins must be dissected with a fine-toothed comb.
On Saturday, Cincinnati pulled out a 7-3 win over the Brewers, just its fifth win against Milwaukee in its last 12 meetings, despite several baserunning gaffes that left manager Dusty Baker searching for answers.
"We're playing some ugly baseball," Baker said. "I'm seeing things I haven't seen in a long time. We're winning, but I'm not real happy because I'm seeing some things that over the course of the year I haven't had to deal with."
The Reds had a runner thrown out at home plate and another at third base to stifle two late rallies, but they were bailed out by a pair of two-run home runs from Shin-Soo Choo and Joey Votto, evening the three-game weekend series at a game apiece.
Choo's two-run home run in the second inning gave the Reds a 4-0 lead and Votto's two-run blast off the very top of the right-field foul pole -- estimated at 470 feet -- provided insurance in the sixth inning, while Reds starter Homer Bailey worked around a Brewers' three-spot in the fourth to pick up his 11th win of the year and sixth win in his last nine starts.
But Baker was not satisfied.
"Just, I'm shocked sometimes," Baker said. "When you play ugly games at this level, you're playing poor this late in the season and you make the same mistakes, it makes you wonder about the baseball intellect of the team."
Bailey allowed three consecutive hits to start the fourth inning, and after Jeff Bianchi's sacrifice fly, the Reds' lead was trimmed to 4-3. But Bailey stranded a runner on first in the inning, and he left after seven, allowing three earned runs on five hits, while striking out three.
Bailey tied a season-high by walking four batters, while throwing just 68 strikes on 109 pitches, but he made key pitches when he needed to.
"I just wasn't very sharp," said Bailey, who improved to 11-10. "Twelve o'clock games are kind of tough to play in. Just kind of a good, bad day if you will. But, you know what? We scored enough runs and got a win when we really needed it."
Bailey jumped above .500 for the first time since he won his first start of the season on April 5.
"As long as we win at the end of the day, I couldn't care less what my record is," he said. The record that matters is the team mark, which improved to 84-65 on Saturday.
Votto said each game is not necessarily more important at this stage of the season, but given the tight NL Central race, more eyes will be on the Reds each day.
"You have an idea of who's behind you, who's ahead of you, how many games you need to make up," Votto said. "So, these games are not necessarily more important, but we're just more aware of what's happening around us."
The Reds are 2 1/2 games out in the NL Central after a Cardinals loss and Pirates win forced a tie atop the division. Cincinnati extended its lead for the second Wild Card spot to 5 1/2 games ahead of the Nationals, who fell, 5-4, to the Phillies.
It may have been a different story had the Reds' bats not broken out against Brewers rookie right-hander Johnny Hellweg. The seven runs scored was the most by the Reds since Sept. 2.
Choo led off the game with a double and after Brandon Phillips bunted him to third, he scored on a Votto sacrifice fly. In the second inning, Choo launched his 21st home run of the season to straight-away center field to supply Bailey with a 4-0 cushion.
Votto extended the Reds' lead to 6-3 with his 23rd home run off Brewers reliever Michael Blazek in the sixth inning. Votto turned on a 3-1 fastball and watched it from the batter's box -- leaning his body in hopes it would stay fair -- until it caromed off the top of the right-field foul pole.
At an estimated 470 feet, Votto's blast is tied for fourth longest all-time at Miller Park. Brewers second baseman Rickie Weeks, who is out for the remainder of the season with a hamstring injury, hit a home run just as far on Sept. 27, 2011. Former Brewer Russell Branyan owns the longest home run at Miller Park with his 480-foot shot, hit on July 27, 2004.
"That's why they've got it up there," said Baker of the Miller Park foul pole.
For Votto, it was his second three-RBI game this season and first since Aug. 2.
"I definitely wasn't certain [it would stay fair]," Votto said. "I'm not going to stand there and watch a home run. I'm very unpracticed when it comes to hitting balls to right field, so any time there's a ball close to the foul line, and certainly close to the pole, I don't know really what's going to happen next."
Hellweg was finished after five innings, allowing four earned runs on eight hits, while walking one and striking out one. He also hit three batters, something Brewers manager Ron Roenicke said he would not blame the Reds for being irritated by.
If the Reds were upset seeing their guys get plunked, "I don't blame them," Roenicke said. "Everybody knows he's not trying to hit anybody, but still, even though you're not trying to, they're not in a position where they can afford to have somebody hit and be out a while. All of them were glancing blows, which I was happy about."
Choo added a sacrifice fly in the eighth inning to finish with his third three-RBI game of the year and first since Aug. 21. He also scored three runs and coaxed his 99th walk of the season.
Reds closer Aroldis Chapman came on with the bases loaded and two outs in the eighth inning and struck out Jonathan Lucroy. The last time the two met at Miller Park, Lucroy launched a two-run walk-off home run off Chapman on Aug. 16.
Kevin Massoth is an associate reporter for MLB.com. This story was not subject to the approval of Major League Baseball or its clubs.