Torres hurt by few mistakes; Mets blanked by Fish
Torres hurt by few mistakes; Mets blanked by Fish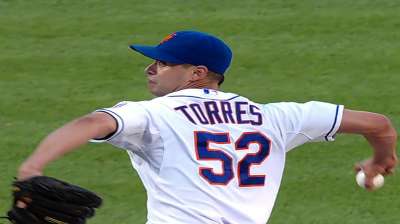 NEW YORK -- A bloop single and a solo home run served as the lone significant blemishes on Carlos Torres' ledger Saturday. Little separated him from a superlative outing, but even those two dents were too much for the Mets' lackluster offense to overcome.
Through 3 2/3 innings, Torres' line was practically spotless. Only a walk and two errant pitches that drilled Donovan Solano in two separate at-bats served as his early mistakes. Torres reached a career high of seven strikeouts with two outs in the fourth inning. But it only took a couple of swings for Miami to build a sufficient lead in its 3-0 win over New York in Game 1 of a doubleheader.
"I think he executed better. One of the things when you see Carlos, when he's down in the zone is when he's more effective," manager Terry Collins said. "He pitched much better today."
Logan Morrison became the first Marlin to spoil the mostly stellar start Torres was building. With runners on first and second in the fourth, Morrison blooped a single into left-center field in front of a converging Eric Young Jr. and Matt den Dekker. Solano scored to give Miami a 1-0 lead.
Torres retired the next four batters he faced, but Solano earned revenge for getting hit twice when he led off the top of the sixth. The second baseman drilled a 1-0 offering from Torres over the wall in left-center field to build the Marlins' lead.
"I was thinking about it in my third at-bat. I needed a good pitch," Solano said. "I was a little bit afraid. I didn't want another hit by pitch. I put a good swing on that fastball. It was in the middle of the plate, and I got a home run."
In six innings, Torres allowed only three hits with two walks (one intentional) and eight strikeouts. Of his seven starts this season, Saturday's performance was easily near the top. But the right-hander had little room for error.
Torres said he wasn't happy with the way he pitched, especially when it came to the control issues that led to Solano getting hit twice and the unintentional walk in the fourth.
"I have no clue how I hit Solano twice," Torres said. "I ended up behind a couple of hitters, and just threw too many balls out of the zone."
With the Mets' offense scuffling, a slim deficit was too much to overcome against Marlins starter Henderson Alvarez, who pitched a stellar performance of his own. The right-hander gave up only four hits with five strikeouts in his seven scoreless innings.
Although New York did have some opportunities.
The Mets had the bases loaded in the second inning with two outs, but couldn't scratch out a run.
With one out in the seventh, den Dekker doubled, but the Mets couldn't drive him in. Travis d'Arnaud flied out, and Solano made a nice stab on Omar Quintanilla's grounder in the hole between first and second for the third out.
"You look at some of the hits that they get on the other side, and they hit the ball the other way," Collins said. "We're not doing it. I know there's some guys that got here because they're power hitters or something, but we've still got to use the field better to hit."
On their homestand that began on Monday, the Mets have scored only nine runs in six games and have been shut out three times. As a team, New York is hitting .163 over that stretch.
Miami added another run in the eighth, when Morrison hit a line drive that drilled Mets reliever Frank Francisco in the hand. First baseman Lucas Duda was able to pick up the ball and tag Morrison for the out, but Christian Yelich scored from third to make it 3-0.
Collins said the ball hit Francisco around the thumb area, and it swelled up quickly. The Mets sent Francisco for X-rays.
While Torres delivered a strong start -- even one he wasn't completely satisfied with -- the Mets couldn't provide him with a victory. Their struggling offense cost them once again.
Said Collins: "We've got to make some adjustments."
Chris Iseman is an associate reporter for MLB.com. This story was not subject to the approval of Major League Baseball or its clubs.