Sox chip away at CC, leaving Yanks stuck in WC race
Sox chip away at CC, leaving Yanks stuck in WC race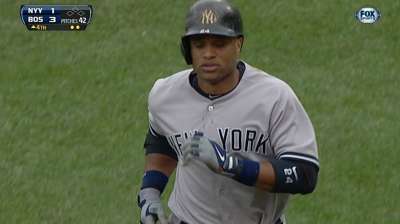 BOSTON -- As he leaned against a red-brick wall in one of Fenway Park's noisy corridors, CC Sabathia's voice carried over the din as the first to agree that he has not pitched up to anyone's expectations of an ace this season.
He keeps hearing that things are about to turn around, but his team needs help now. Sabathia labored against the powerhouse Red Sox lineup on Saturday afternoon and the Yankees were unable to recover from the early deficit, accepting a 5-1 defeat that provided no forward momentum.
"It's very frustrating, because everybody keeps telling me I'm close, but I don't see it," Sabathia said. "I want results and I know the team wants results. I know the fans want results. It's just tough not being able to deliver."
Sabathia was peppered for five runs and nine hits over six innings, charged with his career-high 13th loss of the season. The Yankees once expressed confidence that Sabathia's ace 'stuff' was coming back; now, they'll settle for outings that keep them in the game.
"He's had some issues where the ball has cut on him, and that's usually what it is," Yankees manager Joe Girardi said. "He just doesn't locate it. I think his stuff is plenty good enough to control lineups."
The loss left the Yankees, who are three games back of the Rays and Rangers in the American League Wild Card race, stalled in their pursuit of a playoff spot for the second straight day. New York will try to avoid a sweep on Sunday.
"It's only a must-win game when it's an elimination game, but I think it's a real important game," Girardi said.
Jon Lester turned in a commanding performance for the Red Sox, who defeated the Yankees for the 12th time in 18 meetings this season, moving a season-high 32 games over .500 with a Major League-best 91-59 record.
Lester held New York to a run and three hits over eight innings, walking two and striking out five in a 115-pitch outing.
"He was pretty good today," said Yankees catcher J.R. Murphy, who made his first Major League start. "He had a really good cutter. He mixes his speeds up from the stretch, slide-steps, and he's got a really good fastball. He maintained his velocity the whole game."
The Yankees scored their only run in the fourth inning, as Curtis Granderson tripled and scored on a Robinson Cano groundout.
New York's lineup was without slugger Alfonso Soriano, who was a late scratch after he reported soreness in his right thumb stemming from a pair of dives earlier this week.
"It shrinks your lineup a little bit whenever you have to take someone out, but it's no excuse," Girardi said. "You're still Major League hitters and you've got to figure it out."
There were no complaints from Lester, who attacked the diminished batting order aggressively.
"Our game plan going into today was going out there and, 'Here it comes,'" Lester said. "You're either going to get me or I'm going to get you. We were able to get some quick outs early on and get on a little bit of a roll from there. You look up and you're in the eighth."
Those are the kinds of outings the Yankees used to count on from Sabathia, but they've been tougher to come by. Sabathia has been given a long leash to empty his tank and hit the century mark in pitches more times than not, but his ERA currently sits at a career-worst 4.90.
"I felt like I was behind everybody and got in some tough counts," Sabathia said. "With a team like they have, when you get behind in some hitters' counts, you're going to give up some hard-hit balls."
Sabathia said that he gets plenty of positive reinforcement from pitching coach Larry Rothschild and the club's catchers, and he feels healthy with good stuff. That is what has made this season all the more mystifying to him.
After an efficient seven-pitch first inning, the Red Sox forced Sabathia to work hard in the second, a frame that featured a Mark Reynolds throwing error that set up Will Middlebrooks' run-scoring groundout.
David Ortiz knocked in Boston's second run with an RBI double off Sabathia in the third, followed by a Jonny Gomes run-scoring single.
"Maybe it's just one of those years," Boston first baseman Mike Napoli said. "But he still goes out there and grinds and gets deep into games. We just got to him."
Shane Victorino added a run-scoring single in the fourth and Daniel Nava lifted a sacrifice fly in the fifth, as Sabathia clocked in at 90 pitches after five innings and 110 after six.
"It's tough when you don't have your stuff against these guys, but you just try to go out and battle and do what I could," Sabathia said. "It wasn't good enough. It hasn't been good enough all year. I've got a few more starts left. Hopefully I can be a lot better."
Bryan Hoch is a reporter for MLB.com. Follow him on Twitter @bryanhoch and read his MLBlog, Bombers Beat. This story was not subject to the approval of Major League Baseball or its clubs.