Lester, balanced Sox roll Yanks to trim magic number
Lester, balanced Sox roll Yanks to trim magic number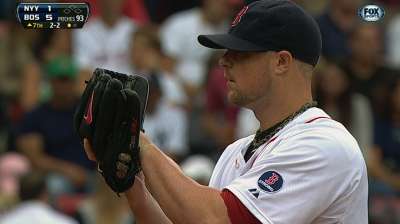 BOSTON -- It's about confidence with Jon Lester. Hasn't it always been?
"I heard some stories about [Lester] really down on himself for not carrying the load last year," catcher David Ross said. "And when you put that much pressure on yourself, nobody can pitch through that."
Ross and catcher Jarrod Saltalamacchia, pitching coach Juan Nieves, manager John Farrell and fellow starter Clay Buchholz all have talked about Lester needing to lessen the pressure he puts on himself and just pitch. The confidence will come.
In Saturday's 5-1 win over the Yankees, Lester pitched aggressively, carelessly, and almost flawlessly.
The game plan was the same as it was against the Yankees last Sunday, which was the same as it was against the Tigers five days before that: No nibbling.
The 6-foot-4, 240-pound lefty only nibbled occasionally -- "unacceptable," he called his two walks -- but he was mostly overpowering, holding the Yankees to one run on three hits over eight innings.
The Red Sox trimmed their magic number in the American League East to six while ensuring the Yankees would gain no ground in their pursuit of an AL Wild Card spot.
Over his last three starts Lester, has allowed five total runs over 23 combined innings.
"Here it comes," he described his mentality. "You're either going to get me or I'm going to get you. We were able to get some quick outs early on and get on a little bit of a roll from there.
"Then you look up and you're in the eighth."
Through the first three innings, Lester was perfect. He attacked with his cutters, got ahead often and worked quickly. His fastball command was so sharp that he didn't need a changeup until the sixth inning.
"I'm glad he's on our side," said Ross.
Curtis Granderson hit a long fly ball to lead off the fourth, but Shane Victorino, playing center field for the injured Jacoby Ellsbury, was turned around on the play and the ball fell in the gap for a triple. Granderson scored on a groundout, but that was the only time a runner would reach third base.
"It's more about him having confidence in his pitches," Farrell said. "That's what reduces the frustration with him and allows him to not carry the previous pitch into the next one, and that frustration is eliminated. That's where he's been for pretty much the whole year, with the exception of that month stretch where things were hit-and-miss for him."
With a runner on first base and two outs in the eighth, Lester ended his day in style, fielding a hard-hit ground ball that was coming for his head and throwing it to first base for his final out of the game. Lester walked off to a standing ovation. He had just eclipsed the 201-innings mark for the season.
But instead of breaking down late in the season, Lester has thrown eight straight quality starts since Aug. 8, posting a 1.83 ERA.
"It's not uncommon for power pitchers to really hit their stride in the second half of the season," Farrell said. "He's an example of that. His delivery becomes that much more efficient, and he repeats it more consistently. With that rhythm comes power, and that's what we've all seen in Jon over the course of the time here."
It was a fitting end to CC Sabathia's season at Fenway Park, where he allowed 18 runs in 16 1/3 innings (9.92 ERA). Sabathia allowed 13 baserunners (nine hits, four walks), five of which scored, as he labored over six innings of work. He finished the regular season with a 7.22 ERA over five starts against the Red Sox.
Mike Napoli and Jonny Gomes each reached base four times out of the Nos. 4-5 spots, respectively, to lead the Red Sox offensively. The top five batters in the lineup combined to go 8-for-16 with four walks, four runs and three RBIs, while five different Sox recorded an RBI.
Buchholz takes the mound Sunday night against Ivan Nova as the Red Sox go for the three-game sweep that would allow them to finish the season with a 13-6 record against the Yanks.
"It's only a must-win game when it's an elimination game," Yankees manager Joe Girardi said. "But I think it's a real important game."
Jason Mastrodonato is a reporter for MLB.com. Follow him on Twitter @jmastrodonato. This story was not subject to the approval of Major League Baseball or its clubs.