Back spasms force Anderson out after two batters
Back spasms force Anderson out after two batters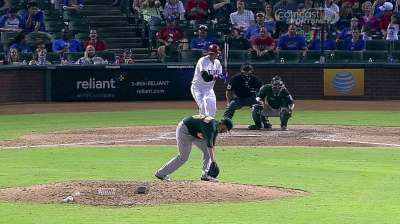 ARLINGTON -- A's lefty Brett Anderson faced just two batters in Friday's 9-8 win over the Rangers before exiting with back spasms, but the hurler isn't expected to miss much time.
"He's day to day," said manager Bob Melvin, "and we'll probably know a little bit more tomorrow."
"The only solace is it's just a back spasm, and guys come back from those in a day or so," said Anderson. "But it's just something else to deal with, disappointing myself."
Anderson already missed four months of the season because of a stress fracture in his right foot, having also been limited to a month of play last year after recovering from Tommy John surgery.
The 25-year-old lefty, who hadn't pitched since recording a three-inning save on Sunday, walked his only two batters on Friday, which marked the beginning of Texas' six-run eighth inning.
"It wasn't one pitch or one thing," Anderson said. "I tried to fight through it, but every time I landed, it kind of progressively got worse."
Jane Lee is a reporter for MLB.com. This story was not subject to the approval of Major League Baseball or its clubs.